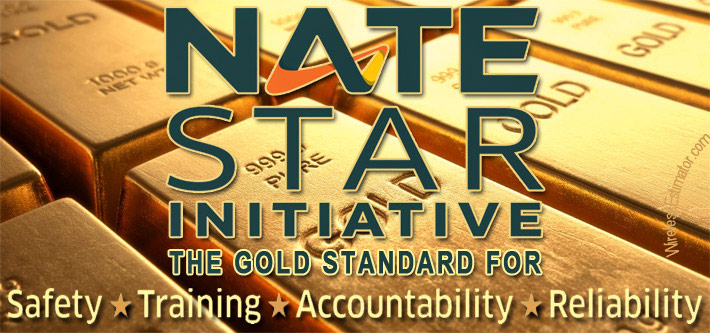 NATE: The Communications Infrastructure Contractors Association today announced the member companies who have been formally approved to participate in the STAR Initiative program for the 2021-2022 year. NATE has proudly accepted 176 participating companies in this year's STAR Initiative program.The STAR Initiative will be entering its twelfth program year in 2021-2022. Since its inception, the program's site safety audits and program documentation requirements have served to allow participants to proactively identify and correct hundreds of job site hazards and deficiencies.

These results have allowed NATE to extrapolate valuable benchmarks and tangible data from the program, while demonstrating compelling evidence that STAR Initiative member companies are leading the charge in terms of making our industry safer.

The STAR Initiative program represents the gold standard in the industry and has achieved an elevated level of distinction in the marketplace. Simply put, program participants are placing their respective firms in a strong business position with prominent industry customers and vendors.

On behalf of the Association, "I would like to take this opportunity to extend my warm congratulations to this distinguished group of STAR Initiative companies who have been accepted to participate in this year's program," said NATE Director of Safety, Health, & Compliance Kathy Stieler.

"These companies' efforts with regards to safety, have not just reached the eyes of their fellow NATE members and the men and women in the industry, but are recognized nationally by government agencies, standards bodies, wireless carriers, and vertical realtor customers. These STAR Participants have committed to something truly special, and it is a testament to the safety cultures of their respective teams. Thank you STAR Initiative companies for your continued focus on job site safety and quality, and your dedication to the protection of your employees while deploying and maintaining infrastructure and networks at sites throughout the country," added Stieler.

This year, program participants will once again have access to the innovative STAR Initiative mobile app. The STAR app significantly enhances the participant experience and provides a convenient means of submitting Site Safety Audit documentation in real-time directly from the field via smart phone, tablet or other mobile device. The official NATE STAR Initiative app is available as a free download in both iOS (Apple) and Android platforms.

As an added benefit, STAR Initiative participants also receive discounts on designated training courses offered on the NATE EXCHANGE, a dynamic website platform connecting companies to the most up-to-date training courses offered in the tower industry.
The 2021-2022 NATE STAR Initiative participating companies include:​
A&J Steel Reinforcing Services Inc.
A.R. Wireless, Inc.
Above All Tower Climbing, LLC
Above Wireless LLC
Advanced Tower Services, Inc.
Advanced Wireless and Logistics, Inc.
Advanced Wireless Solutions, Inc.
Amatel, Inc.
AmChel Communications, Inc.
AMF Electrical Contractors, Inc.
ANS Advanced Network Services LLC
Ansco & Associates, LLC
Apex Site Solutions
AscendTek, LLC
Atlantic CommTech Corporation
Atlantic Construction Companies
Aztech Wireless Inc
B+T Group
Banner Enterprise LLC
Bayed Communications LLC
B-C Walker, Inc.
BDC Group, Inc.
Best Endeavours, Inc.
Black & Veatch
Branch Communications, LLC
Bright Lighting, Inc.
Broadcast Construction Solutions
Centerline Communications LLC
Ceragon Networks, Inc.
CMS Wireless, LLC
Com Plus Inc.
CSB Communications, LLC
Dan Combs Consulting Inc.
DAWCOM
Design 1
Design Telecommunications Inc.
Diverse Construction, Inc.
Diversified Communications Services
E.M. Enterprises General Contractors,
Inc.
East Coast Communications
Eastern Communications, Inc.
EasTex Tower, LLC
Eastower Communications Inc
ECS Telecom Services, LLC
Elevated Services, LLC
Elexco, Inc.
Elite Tower Solutions, INC.
Embark Telecom Group, INC
Emergency Radio Service, Inc.
ENERTECH
Engineering Wireless Services, LLC
(EWS)
Epic Communications
ERI Installations, Inc.
Ericsson Inc.
Excalibur Builders and Maintenance,
Inc.
Excel Construction, Inc.
FastTrac Telecom Services LLC
FDH Infrastructure Services, LLC
Flash Technology
Fulton Technologies, Inc
Global Tank and Tower, LLC
Grapevine Solutions, Inc.
Gray's Tower Service LLC
Green Mountain Communications, Inc.
Gulf Services
Hayden Tower Service, Inc.
Heartland Solutions Corp.
Hightower Communications, Inc.
Illini Drilled Foundations, Inc.
Independent Network Services, LLC
Industrial Communications, LLC
Innovated Tower Solutions
Irby Construction Company
JDH Contracting, Inc.
JT Tower Service
K&H Construction, Inc.
KGPCo.
KMM
Larson Tower Specialists, LLC
Legacy Telecommunications, LLC
Long Wave Inc.
Maryland Premier Towers, LLC
Mason Wireless Solutions, Ltd.
MasTec Network Solutions
McPhee Electric
MDTS
Mercury Communications Contractors
LLC
Meridian Blue Construction, LLC
Mesquite Valley Communications, Inc.
Michigan Towers Incorporated
Microwave Transmission Systems, Inc.
Mid Atlantic Contracting, Inc.
Midland Communications Inc.
Midwest Tower Erection, Inc.
MILLERCO
Mountain Wireless
Murphy Tower Service, LLC
MUTI – Sabre Industries Telecom
Services
MZI Group
NDC Communications, LLC
Neticom, LLC
Network Installation Specialists, LLC
NeuComm Solutions, LLC
New Horizons Telecom, Inc.
Newkirk Electric Associates Inc
Noash Construction, Inc.
North Sky Communications, Inc.
Northeast Towers, Inc.
Northern Pride Communications, Inc.
Nsight Tower
Omega Development Company
Omni Contracting, Inc.
One Way Wireless Construction
P. Marshall and Associates, LLC (TS)
Pathwave Inc.
Patriot Towers Inc.
PCRG,LLC
Peak Signals, LLC
PeakNet
Perfect Wireless, Inc.
Pilgrim Communications, Inc.
Pillar Innovations LLC
Pinkham Cyr, Inc.
Pioneer Telephone Cooperative, Inc.
Platinum Communications
Power of Design Group, LLC
Premise, Inc.
Primoris T&D
Pyramid Network Services
Pyrgos Communications Inc.
QualTek Wireless LLC
R & M Electrical Telecom/Maint., Inc.
Randal's Tower Tech Inc.
RIO Steel & Tower, Ltd.
Riverview Wireless Construction
SAC Wireless LLC
SAI Group
SiteMaster, Inc.
Sky Climber Tower Solutions DBA Sky
Climber Telecom
SkyTower, LLC
Spectrum Construction Services, Inc.
Speelman Electric, Inc.
STERLING Telecommunications &
Construction, Inc.
STG Communication Services
Stoehr Telecom Construction
Stout & Company, LLC
Structural Tower Services, Inc.
STS Communications, Inc.
Teltronic Towers, Inc.
TEST Communications
Texoma Contracting, Inc.
Thayer Power & Communication Line
Construction Co., LLC
Tiller Engineering Inc.
Tillman Infrastructure
Tilson Technology Management, Inc.
Timberline Communications, Inc.
Titan Tower, LLC.
Total Telco Specialists, Inc.
Tower & Turbine Technologies LLC
Tower Communications Expert, LLC
Tower Engineering Professionals, Inc.
Tower Inspection, Inc.
Tower Systems, Inc.
Tower Technologies, LLC
TowerMRL, LLC.
Triangle Communication System
Triforce Communications, LLC
United Telecom Systems LLC
US Tower Services, Inc.
Vertical Technology Solutions, Inc
VERTICOM
Viking Maintenance dba Finish Tower,
Inc.
Vinco, Inc.
Wireless Construction, Inc
Wireless Horizon
Wireless Infrastructure Services