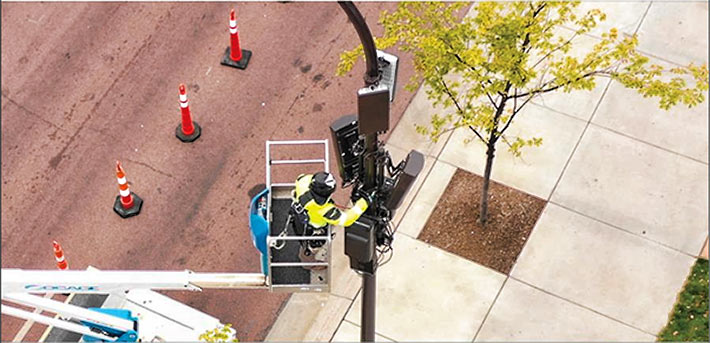 NATE: The Communications Infrastructure Contractors Association announced today that the registration process is  open for the first, five 5G-Small Cell Deployment Training sessions that will be facilitated by the Association in 2021.
Overall, 12 5G-Small Cell Deployment Training Courses will be hosted nationwide in 2021 and will be offered free of charge to industry employees and employers due to a Susan Harwood Training Grant (SH-990350-SHO) from the Occupational Safety and Health Administration, U.S. Department of Labor.
Throughout 2021, NATE is planning to host these complimentary, grant-enabled training sessions in Bloomington, Minnesota; Tulsa, Oklahoma; Anchorage, Alaska; Indianapolis, Indiana; Salt Lake City, Utah; Tampa, Florida; Portland, Maine; Arlington, Texas; Nashville, Tennessee; Bellevue, Washington; Omaha, Nebraska and Charleston, West Virginia.
The 5G-Small Cell Deployment Training will include the following content sections:
· State of the 5G-Small Cell Deployment Industry
· Potential Small Cell Hazards and Exposures
· Personal Protective Equipment (PPE)
· Pre-task Planning and Job Hazard Assessment
· Temporary Traffic Control
· Trenching and Excavation
· Small Cell Electrical Hazard Identification
· Fiber Optics Safety Basics
· Working at Height
· Radio Frequency (RF) Hazards
· Confined Spaces
· Environmental Concerns
· Working Alone and in the General Public
"On behalf of the Association's Curriculum Development Committee, we are extremely proud of the caliber and quality of the training program that has been developed," said NATE Small Cell and DAS Committee Chairman George Kerstetter from PerfectVision.
"The timing is right for NATE to offer this training nationwide as the Association's member companies continue to serve on the front lines of the 5G deployment cycle that is projected to continue to ramp up throughout 2021 and beyond. I would encourage all industry employees and employers to register for the 5G-Small Cell Deployment Training Course that is hosted in their respective regions of the country," Kerstetter added.
The 2021 NATE 5G-Small Cell Deployment Training Courses will be hosted as in-person sessions and will adhere to all COVID-19 protocols in order to ensure the safety and welfare of participants.
Interested participants should complete the 5G-Small Cell Deployment Training Course online registration form available on the Association's 2021 Worker Training Course website page HERE.