Majority shareholders of the telecommunications infrastructure firm Continental Towers LATAM Holdings Limited have filed a lawsuit against the Weston, FL-based company Torrecom Partners, LLC.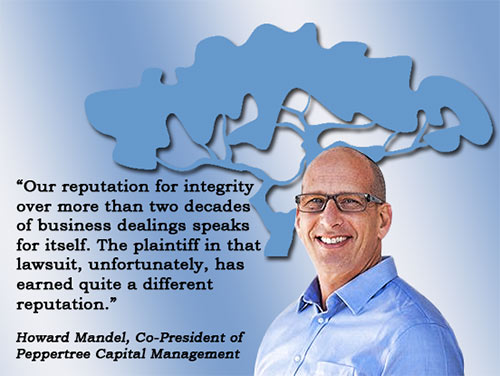 The complaint alleges a conspiracy in coordination with Continental's minority shareholders, Goldman Sachs and Peppertree Capital Management, to depress the company's value and force a merger that would enable Continental's minority shareholders to squeeze its majority shareholder out of the post-merger entity.
In their lawsuit, Terra Towers, Corp., majority shareholder of Continental Towers and one of the largest telecoms tower builders in Latin America, accuses minority shareholders of orchestrating the merger with Torrecom as early as 2017.
Using Torrecom as a disguised third-party buyer, the lawsuit alleges, Goldman and Peppertree-appointed board members breached their fiduciary duties to the company and allegedly negotiated and agreed to terms of a sale detrimental to Continental.
When asked to comment on the matter, Howard Mandel, Co-President of Peppertree Capital Management, Inc., informed Wireless Estimator, "Our reputation for integrity over more than two decades of business dealings speaks for itself. The plaintiff in that lawsuit, unfortunately, has earned quite a different reputation."
Ohio-based Peppertree was formed in 2004 and is currently investing out of its eighth private equity fund and an evergreen debt fund.
Peppertree has more than $2B under management and has made more than 100 investments in communication infrastructure companies in 10 countries.
The firm acquired 1,000 towers from AT&T in 2019.
The complaint also alleges that Goldman and Peppertree systematically blocked multiple growth opportunities, including a lucrative contract awarded by Spanish carrier Telefonica to build 200 towers in Guatemala and Nicaragua.
Torrecom has a growing presence in these markets, and Goldman and Peppertree's alleged attempts to depress the value had the secondary effect of improperly limiting Torrecom's competition, the lawsuit alleges.
Moreover, the complaint alleges that Goldman Sachs planned to provide Torrecom with the debt financing to acquire Continental, creating a potential conflict of interest, with Goldman acting both as a seller and a lender to the buyer.
"This complaint alleges a series of actions undertaken by the minorities in coordination with Torrecom to deprive the company of numerous profitable opportunities," says Enrique Canton, an executive and spokesperson for Terra Towers.
"The minorities have risked their investors' investment in Continental by rejecting thousands of tower development projects. They also violated Continental's shareholder agreement by signing confidentiality agreements and negotiating a sale on behalf of Continental without informing Terra, the majority shareholder of the company."
The lawsuit, available here, states that proposed approved sale from Torrecom indicated a price of $406.8 million, a multiple of 17 x tower cash flow (TCF).
It alleged that Mandel had previously informed the company that 20 x TCF was the "floor range" at which the company should be valued.
UBS Bank, according to the lawsuit, stated that the proposed offer was materially less than comparable transactions and the valuation of the company was closer to 24 x TCF.
The complaint states that the share ownership of the company has Terra Towers with the majority of shares with 54.45%. Peppertree LATAM held 23.73%, Peppertree TBS, 8.47% and Goldman, 13.35%.
Terra Towers has listed the amount of the claim against Torrecom to be over $100,000.