Wireless contractors and other infrastructure companies are offering bonuses to attract new hires and are rewarding employees who refer job seekers from other companies as well as inexperienced candidates that remain with the company for a set period of months.
A review of Wireless Estimator help wanted ads found many companies offering from $1,000 to $5,000 sign-on bonuses as a carrot to attract qualified tower techs.
During the past year, companies have had to provide bonuses as they deal with the shrinking labor pool that needs to be staffed to accommodate Dish Network's build, AT&T's 'one climb' strategy announced yesterday, as well as other carrier 5G deployments.
Although hiring had slowed beginning in March of 2019 after hitting a record high, the 10-year Wireless Estimator hiring trends chart below identifies the sharp hiring decline through November of 2019 and saw the typical Q1 bounce in 2020. However, in 2020 following confirmation of the first COVID-19 case in the U.S. from samples taken in Washington state hiring hit a 10-year low in November 2020.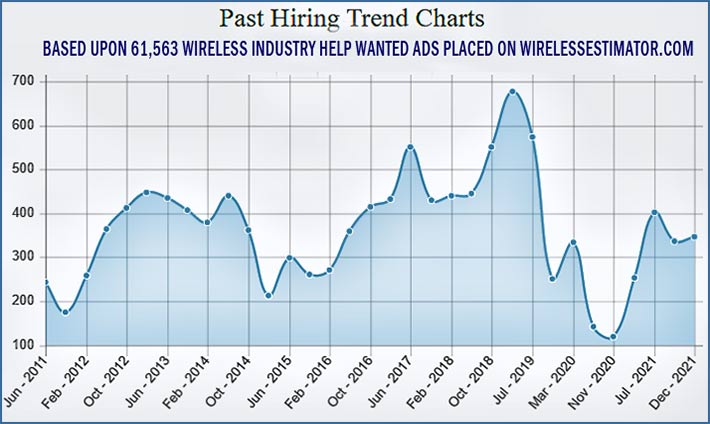 Some of the industry's most active companies soliciting wireless workers on the nation's largest wireless job board, include Pearce Services, Roaming Networks Inc., Tower Systems, Tilson Technology Management, UC12 Construction Services, LLC, SBA Communications Corporation, Overland Contracting, Pillar Innovations, Bechtel, TKK Communications and X3 Management Services, Inc. There are currently 465 job postings to review.
The bonus shouldn't be the key factor
Although HR managers will agree that a bonus is important, they caution applicants to take other benefits into consideration, such as paid holidays, per diem reimbursement, salary, 401K contributions, health insurance life insurance and other benefits since a salary typically comprises less than 70 percent of a worker's total compensation, according to the U.S. Bureau of Labor Statistics (BLS).
At a time when record numbers of people are voluntarily quitting their jobs, a thoughtful and generous benefits, and perks package is crucial for keeping a contractor's best people around — and recruiting more top talent to join a company's team.
Hourly rates are difficult to assess
One of the most frequent questions posed to Wireless Estimator by hiring administrators is: Do you have a general idea of the average hourly pay scales for technicians? The answer is a quick, no, and neither does Indeed nor other job boards that scrape a few ads across the country and publish an average.
Wages throughout the country are based upon locations. As examples, Texas and Florida are generally lower in salaries paid for skilled technicians, but some contractors in those states will pay higher than the state's average rates.
Since wireless construction is a small subset of general construction throughout the country, the BLS does not provide any data for wireless construction in their annual analysis of occupational employment and wage estimates.
Even if they did, the BLS is known for incorrect data. In addition, the most current wages are from their May 2020 report that compiles 2019 wages – a lifetime away from today's salaries. As an example, the report shows that the average hourly salary of 3.5 million fast-food and counter workers is $11.47, a far cry from Chick-fil-A's $19 starting salary in Hendersonville, NC.
Contractors can't pass on increased salaries
Fast food, retail and other businesses, as well as suppliers, have stated that they have had to increase their pricing to consumers and clients to accommodate higher wages they have to pay employees. The conundrum for contractors is they can't since their carrier clients will not adjust matrix pricing.