Today, the U.S. Department of Commerce's National Telecommunications and Information Administration (NTIA) announced that only two states have not signed on to participate in the Biden-Harris Administration's Internet for All initiative, which will invest $45 billion to provide affordable, reliable high-speed internet for everyone in America by the end of the decade.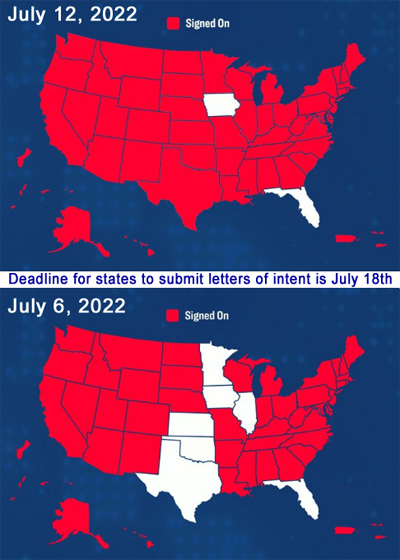 Since NTIA announced the initiative, except for Florida and Iowa,  all of the nation's states and territories have sent in their letter of intent or indicated they will participate.
It's likely that the last two states will sign on  to be able to capture the funding that provides a minimum of $100 million with additional funding determinations made based on the forthcoming coverage maps from the FCC.
The Internet for All programs will build internet infrastructure, teach digital skills, and provide necessary technology to ensure that everyone in America – including communities of color, rural communities, and older Americans – have the access and skills they need to fully participate in today's society.
To participate in the $42.45 billion Broadband Equity, Access, and Deployment (BEAD) Program, states and other eligible entities must submit a letter of intent and a planning funds budget, which will unlock up to $5 million in planning funds and allow states to begin creating their five-year action plan.