The FCC has unveiled the pre-production draft of its new broadband maps. These maps provide the best picture of where broadband is unavailable across the country. The maps will only get better from here, according to FCC Chairwoman Jessica Rosenworcel.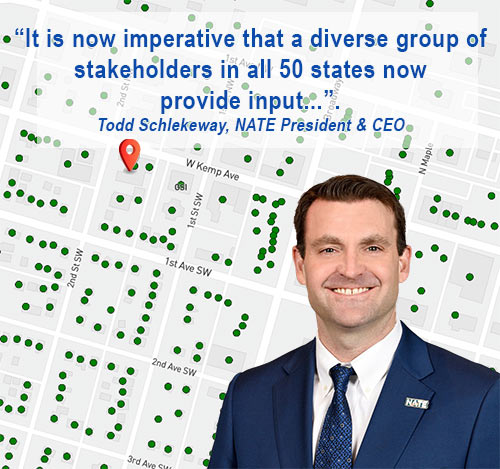 The FCC's older maps collected data at the census block level, meaning that the whole block would show up as served on their maps if a single home was served in a census block. The net result was maps that were overly optimistic, lacked location-specific information, and glossed over coverage gaps.
"With these new maps, the FCC has integrated the information from broadband providers with hundreds of location-specific data sources, giving us a far more detailed and accurate picture of fixed broadband availability," said Rosenworcel.
"While this is only the next step forward in an iterative process, it is a monumental milestone. Constructive public input in this process will be crucial to ensure that we have an accurate understanding of where broadband remains out of reach and where federal funds should be targeted," said WIA President and CEO Patrick Halley.
NATE: The Communications Infrastructure Contractors Association has long been supportive of efforts by various federal agencies and Congress seeking to update broadband coverage maps, especially in rural America, where many white spaces exist.
"NATE member companies on the frontlines of deployment know better than most where coverage gaps exist," said President & CEO Todd Schlekeway.
"NATE congratulates Chairwoman Rosenworcel and the FCC staff who worked diligently to develop the new pre-production draft of the National Broadband Map. It is imperative that a diverse group of stakeholders in all 50 states now provide input on the draft of the National Broadband Map as accurate and timely coverage maps will provide the federal government the clarity and information to make more efficient, targeted use of funds so that NATE member companies can deploy broadband to the areas that truly need it, thereby helping to close the digital divide," added Schlekeway.
U.S. Senator Roger Wicker, R-Miss., ranking member of the Senate Committee on Commerce, Science, and Transportation, said, "The FCC has finally released a draft version of the new broadband maps required by the bipartisan Broadband DATA Act. These drafts are a good first step, but unfortunately for rural Americans, these maps are still flawed," Wicker said. 
"We have already heard of reports that entire communities are missing from the new maps, undermining the success of the Broadband DATA Act. To ensure that no address is overlooked in the final version, I am calling on all Americans to check for their homes and businesses on the maps and participate in the FCC's challenge process. With literally billions of federal dollars at stake, accurate maps are essential in providing efficient funding where it is needed."
Rosenworcel anticipated that there would be inaccuracies in version one.
"This is a beginning, not an endpoint, for the new era of broadband maps. While today marks an important milestone in the effort to create more granular and accurate broadband maps, this work is far from over. To emphasize how much more work needs to be done, we are calling the product we unveil today a pre-production draft. Releasing this early version of the new maps is intended to kickstart an ongoing, iterative process where we are consistently adding new data to improve and refine the maps," said the Chairwoman in a statement.
Rosenworcel said that broadband consumers are empowered like never before.
Maps that show the availability of high-speed Internet service are nothing new. The problem is that the FCC's maps had previously relied on information that failed to paint the whole picture of who did and who did not have the internet, explained Rosenworcel.
"These improved maps will mean direct benefits for consumers. Users now have a one-stop shop to search for their address and find information about which internet service providers claim to offer service at the location, the broadband technologies they offer, and the maximum download and upload speeds they advertise for each technology. This greater transparency will create market pressures on internet providers to improve their coverage. The new maps will also help policymakers more accurately target investments to expand broadband to unserved and underserved areas and close the digital divide,"
Trade groups and federal agencies are in agreement that the long-term success of the FCC's effort will depend on consumer and stakeholder engagement.
To ensure that the maps are constantly improving, the agency has set up a system that allows consumers and others to challenge inaccuracies and provide feedback. For example, individuals who see that the information on the maps does not match up with what they know from their lived experience will be able to submit challenges or request corrections directly through the map interface. The agency will also accept bulk challenges to the reported availability of data from state, Tribal, and local governments and other stakeholders who see problems we need to correct in multiple locations.
The FCC is strongly encouraging those parties to partner with them and share their input through the challenge process so they may continue to improve their maps.
"This crowdsourcing activity is an important part of getting the information we have right," said Rosenworcel.