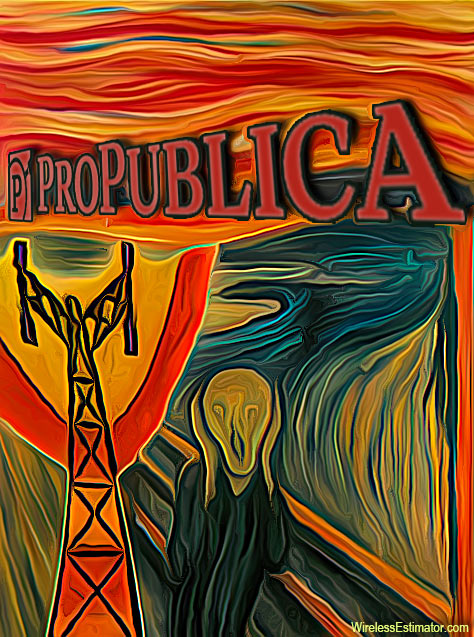 Award-winning investigative journalists at ProPublica have spotlighted wrongdoing since 2008, such as Ryan Knutson and Liz Day's extensive piece in 2012 about the men and women who climb cell towers who "pay with their lives" in a joint investigation with Frontline. They broke new ground since no other major media dared to expose the high industry death count and how, by design, carriers were insulated from being sued.
Last week, cell towers also surfaced when ProPublica exposed "How the FCC Shields Cellphone Companies from Safety Concerns."
The article revealed that FCC physical scientist Edwin Mantiply and three FCC staffers in 2017 proposed hiring an outside consulting firm to conduct an environmental assessment of the agency's submission on radiation safety limits; however, the head of the FCC's Office of Engineering and Technology, Julius Knapp, summarily rejected the proposal.
According  to Peter Elkind, who wrote the lengthy article, when one of Elkin's colleagues, FCC engineer Walter Johnston, was asked about the proposal, he said he didn't remember it ever being presented as a "formal recommendation."
Other than Knapp's reportedly cavalier dismissal and Mantiply's statement on the final day before he retired in 2019, informing FCC Commissioner Jessica Rosenworcel, "Don't dismiss all this stuff because you're hearing from industry, and they're dismissing it," the piece is not an expose but a collection of comments and articles that have been previously published – and surgically dissected by experts as well as tin-hat bloggers.
Pittsfield, MA, is concern-centric
The ProPublica piece begins and ends in Pittsfield, MA, where health complaints affecting all ages surfaced immediately after the activation of a new Verizon cell tower in August 2020.
"A few children had to sleep with 'vomit buckets' by their bed," Elkind said.
In April 2022, the Pittsfield Board of Health issued an emergency cease and desist order directing Verizon to shut down the tower as a "public nuisance" and "cause of sickness" that "renders dwellings unfit for human habitation."
Verizon sued the city in federal court, contending that the residents' medical complaints were bogus and federal law gave the FCC the sole power to regulate wireless radiation risks. Not wanting to fund an extensive fight, the city backed down and withdrew its order.
Relevant background was not presented in the ProPublica article
Before issuing their cease and desist order, Pittsfield hired V-COMM Telecommunications Engineering to test the monopole site's surrounding area for RF compliance.
The 9-page study using a Narda EA5091 E-field probe found that after testing 17 points, the field measurements identified that the maximum level of RF emissions was at 1.66%, with the lowest being 0.01%, well below the FCC's standard.
Concern about the Pittsfield cell tower was championed by resident Courtney Gilardi, an Alma St. homeowner who lives 3/5 of a mile away from the site when she first noticed it was being constructed. She rallied neighbors who registered their concerns to the city.
Once Verizon started transmitting, she said she had "rolling headaches, nausea, dizziness, tinnitus, insomnia, palpitations, and other health problems."
Gilardi said that her two daughters were also experiencing nausea, and if the structure was not turned off, she and her family would move from their home.
She hasn't sold the home, nor is it known if she has moved.
According to Gilardi, the tower could potentially cause residential land values to decrease by 20%, although there is no documentation available that it would.
Gilardi's next-door neighbors listed their home for sale last month at Zillow's estimate of $372,000 and have a pending offer. It was purchased seven years ago for $259,000. The couple were plaintiffs in the appeal of a 2020 lawsuit challenging how the city board handled the cell tower application and did not submit any evidence in the Board of Health order they had been or continued to be injured by the operation of the Verizon tower.
However, Gilardi is still fighting to remove the structure and is a beneficiary of a GoFundMe page that has raised $23,601 to fight Verizon.
Contributors are informed, "Every dollar donated goes directly to our community legal fees, but there are other expenses, too. Out-of-pocket medical bills, alternative accommodation, yard signs, mailings, webpage hosting, and photocopy fees all add up."
Cheers and jeers for FCC's safety concerns shielding
ProPublica's article was heralded on Facebook and Twitter, with one poster writing, "The FCC, like most federal agencies, has been captured by the industry it's supposed to regulate."
"A major thanks and shoutout to journalist, Peter Elkind. This is a timely and illuminating investigative report on the FCC's captured nature and continued failure to protect Americans from ever-increasing wireless radiation exposures," the Environmental Health Trust posted.
One poster said the exposure of the FCC's sidling up to the industry is "an egregious safety issue."
Wireless Estimator reached out to Verizon but could not contact a spokesperson.
An Ohio site acquisition manager who requested anonymity said he was concerned the article would cause siting delays in specific communities and would provide a "convincing crutch for those who want to incorrectly adhere to their belief that 5G causes cancer or severe illnesses."
Lawrence Behr, CEO of industry-recognized LBA Group, a company that has been managing the application and safety of electromagnetic energy since 1963, however, unabashedly called out the article as "recycled nonsense."
Behr, who has frequently served as an expert witness before the FCC, the courts, and zoning authorities in communications regulatory matters, explained, "As Tom Johnson said in the article, regarding conjectures about 5 G's effect on human health, '…long on panic and short on science' ".
"So kids are vomiting in buckets in Pittsfield but not elsewhere? Maybe they should look local for the problem."
"It's reminiscent of the Sprint issue in California where the 'smoke' was likely coming from the superfund site near the school."
"So much of the story is anecdotal or distorted. For example, the article cites the rat study that found heart cancers but passes over the criticism that RF levels were much higher than legal for public exposure, immersing the critters 24 hours a day. Embarrassingly, the male mice lived longer than the controls," said Behr.