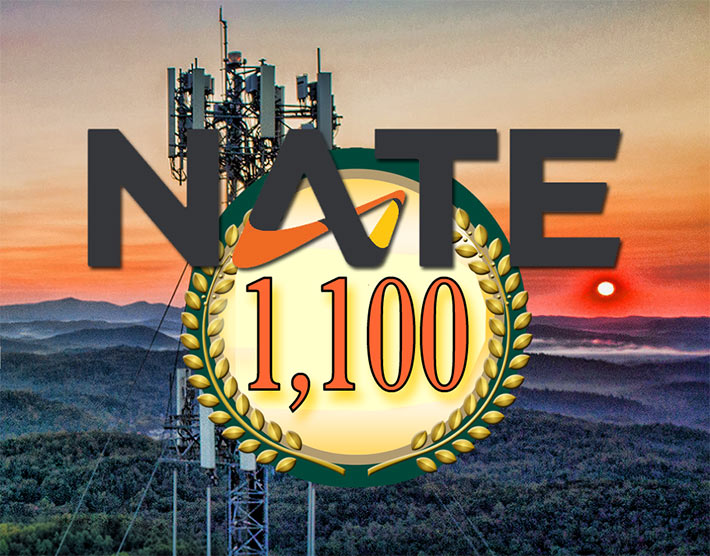 NATE: The Communications Infrastructure Contractors Association announced today that it has established a new all-time record of 1,100 member companies, eclipsing the organization's previous mark of 1,087 members. The Association made the announcement live from the NATE UNITE 2022 Conference taking place this week in Las Vegas, Nevada.
"There is a lot of buzz surrounding this week's NATE UNITE 2022 event and today's exciting announcement will add to the electric environment at our Vegas conference," said Member Services Committee Chairwoman Jordyn Ladner from MILLERCO in Gulfport, Mississippi. "I am so excited to celebrate this milestone with our member companies throughout the week while also participating in the committee strategic planning activities that set NATE up for future growth and influence."
"Today's membership achievement was made possible due to the Association's commitment to investing into strategic initiatives and benefits that directly support our membership," said Member Services Coordinator Jill Rethke. "Additionally, NATE's investments into new staff positions that encompass Government Relations, Safety, Health, Compliance and Marketing responsibilities were made with the Association's member companies first and foremost in our mind. As the industry continues to diversify and evolve, the sky is the limit in terms of NATE's future membership potential," added Rethke.
NATE member companies consist of tower construction firms, general contractors, vertical real estate companies, wireless carriers, engineering firms, technology companies, public safety entities, non-profit organizations, licensed design professionals, manufacturers, distributors and training companies. For NATE membership information, companies and industry stakeholders are encouraged to call (605) 882-5865 or visit the Association's website at http://natehome.com/membership.