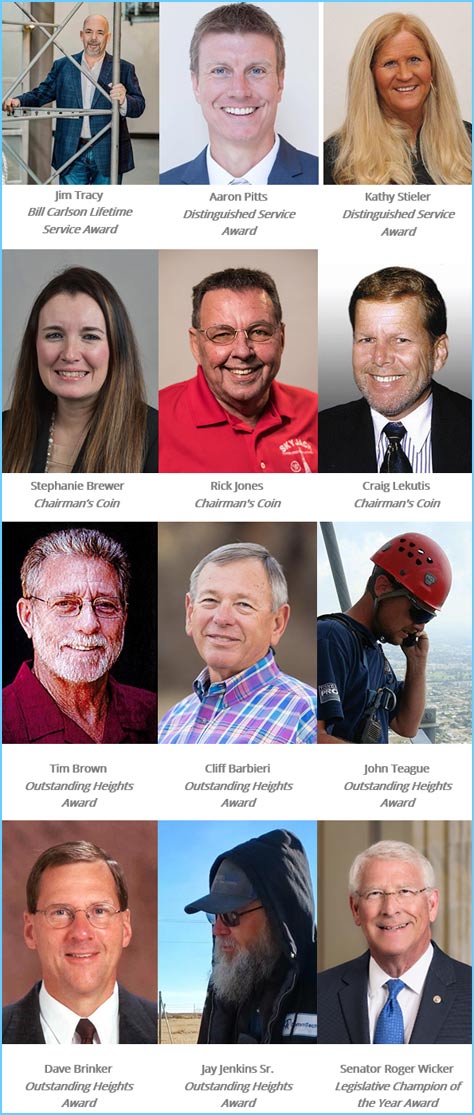 NATE: The Communications Infrastructure Contractors Association today honored a distinguished group of leaders for their contributions to the organization and industry. The following honorees were presented their awards at the NATE UNITE 2022 Awards Luncheon sponsored by DISH in Las Vegas, Nevada:
Bill Carlson Lifetime Service Award
Jim Tracy, CEO of Legacy Telecommunications, LLC, was honored as the recipient of the Bill Carlson Lifetime Service Award. This prestigious award recognizes an individual who has made a significant and long-term contribution to the success of the NATE mission and has served the Association continually for a minimum of 15 years.
Jim was elected to and served on the NATE Board of Directors from 2011-2019, serving as Chairman of the Association from 2016-2019. During his tenure of leadership at NATE, Jim also served as an active member of the Member Services Committee, Legislative & Regulatory Committee and UAS Committee. Additionally, Jim currently serves as President of the 501c-3 non-profit Tower Family Foundation. In 2021, Jim was formally enshrined as a member of the Wireless History Foundation's Hall of Fame, widely regarded as the industry's highest recognition.
Distinguished Service Award
This notable award recognizes past or present standing committee members who have demonstrated direct and individual contributions to the mission of NATE and whose performance has proven so exceptional that it profoundly affects the success of the Association.
Aaron Pitts (P&D Antenna)
Kathy Stieler (NATE Director of Safety, Health & Compliance)
Chairman's Coin Awards
The Chairman's Coin is a prestigious award, chosen by the NATE Chairman, recognizing individuals who have provided excellent dedication and service to the mission of NATE and to encourage continued involvement.
Stephanie Brewer (USA Telecom Insurance Services Inc.)
Rick Jones, (Retired, SkyJack Communications, Inc.)
Craig Lekutis (Wireless Estimator)
Outstanding Heights Awards
This award is presented to individuals who have worked in the communications infrastructure industry for a minimum of 20 years. Retired individuals are eligible. Nominees must exhibit long-term commitment and dedication to their work in the industry that has proven to be truly outstanding.
Tim Brown (Tower Systems South, Inc.)
Cliff Barbieri (Advanced Tower Services, Inc.)
John Teague (Tower King II)
Dave Brinker (Rohn Products, LLC)
Jay Jenkins Sr. (CommTech, LLC)
Legislative Champion of the Year Award
U.S. Senator Roger Wicker (Mississippi)
Regulatory Champion of the Year Award
Jim Goldwater (Goldtouch Consulting)
Women of NATE Leadership Award
Andy Lee (Lee Antenna & Line Service, Inc.)
Departing NATE Board of Directors Member Award
John Paul (JP) Jones (Tower & Turbine Technologies, LLC)
"On behalf of NATE's 1,103 member companies, we offer our heartfelt congratulations to all of today's worthy award winners," said Chairman Jimmy Miller from Gulfport, Mississippi. "NATE has a rich tradition and it is important to utilize occasions like today to take the time to celebrate the tireless contributions of leaders who have helped shape NATE into the dynamic organization it is today."