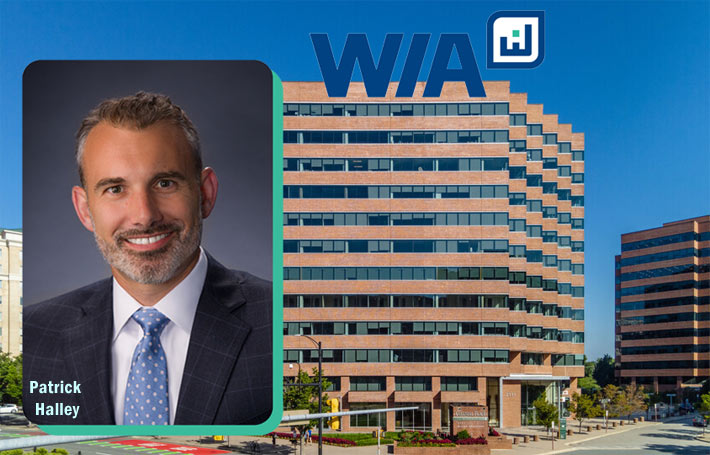 The Wireless Infrastructure Association (WIA) today named communications policy veteran and association leader Patrick Halley as the organization's incoming President and Chief Executive Officer, effective August 1, 2022.
Halley joins WIA from USTelecom – The Broadband Association where he serves as Senior Vice President of Policy & Advocacy and General Counsel and leads the association's policy development and advocacy efforts before the White House, the Federal Communications Commission (FCC) and other regulatory agencies, courts, and in state capitals.
Halley replaces former WIA President Jonathan Adelstein who joined Digital Bridge Group on June 1 after successfully leading the association for the past 10 years.
"We are extremely pleased to announce Patrick Halley as our next President and CEO," said WIA Board Chairman Jeffrey Stoops, President and Chief Executive Officer of SBA Communications Corporation. "Patrick's broad regulatory, legal and trade association experience in telecommunications makes him the ideal person to lead WIA into the future. He has deep knowledge of, and experience in, advocacy, which is the primary mission of WIA, and is a proven manager and motivator of his team members. On behalf of the WIA Board of Directors, I welcome Patrick to his new role and express my excitement about the future of WIA under his leadership."
"In our biggest cities and our smallest towns – and everywhere in between – the infrastructure deployed, operated and managed by WIA members has enabled the wireless revolution transforming America and will be the foundation that ensures the United States is the global leader in 5G connectivity – and beyond," said Halley. "I am honored to represent these companies and thrilled to join the talented team at WIA during this unprecedented era of growth and innovation as we push forward to connect all Americans to next generation wireless networks."
Throughout his career, Halley has been at the forefront of policy debates to bring next generation broadband connectivity to all Americans. Most recently at USTelecom, Halley shaped several major U.S. communications policy initiatives, including the broadband title of the Infrastructure Investment and Jobs Act (IIJA), its ongoing implementation, and a data-driven national broadband mapping initiative. He spearheaded efforts to modernize the nation's communications policies and oversaw the expansion of USTelecom's Industry Traceback Group, the FCC's registered consortium to fight illegal robocalls.
Prior to USTelecom, Halley was a partner at communications law firm Wilkinson Barker Knauer LLP (WBK) and was Executive Director of the Next Generation 911 Institute, a nonprofit dedicated to accelerating the transition to next generation 911. He previously served in a number of senior roles at the FCC, including as a legal advisor to an FCC Chairman and two Wireline Competition Bureau Chiefs, as Associate Chief of the Wireline Competition Bureau, and as acting Director of the Office of Legislative Affairs. While at the FCC, Halley worked to bring the agency's universal service programs into the broadband era and addressed numerous emerging technology transition and competition policy issues.
The appointment of Halley is a result of a national search for WIA's next leader conducted by the executive search firm Odgers Berndtson.