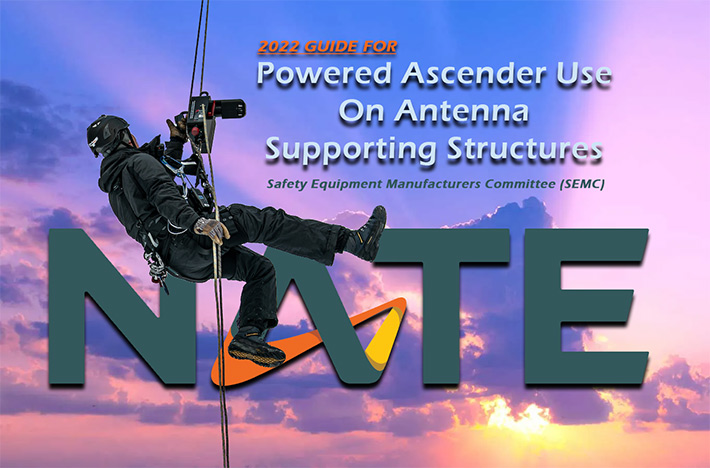 NATE: The communications Infrastructure Contractors Association today officially released the 2022 Guide for Powered Ascender Use on Antenna Supporting Structures White Paper.
This 10-page document is intended to address the use of Powered Ascenders in conjunction with a fixed synthetic rope for personnel ascending, descending and work positioning on telecommunications structures. There is not a recognized standard in the United States applicable for the use of Powered Ascenders utilizing synthetic rope; the only relevant reference material available is the European Machinery Directive 2006/42/EC.
As a proactive approach to the safe use of Powered Ascenders in the industry, this document was created to provide guidance for the use of Powered Ascenders on telecom structures regardless of Powered Ascender manufacturer or design type.
Recent advances in technology have made Powered Ascenders a more prevalent and viable tool for access to work at height. These devices benefit the industry by reducing worker fatigue, increasing efficiency, productivity, and reducing injury potential from repetitive motion injuries, thus increasing worker longevity.
This document is intended to address Powered Ascenders on a fixed synthetic rope, where the Powered Ascender moves along the rope. It will not address the configurations of the Powered Ascender being anchored and the rope moving, or the use of a Powered Ascender to hoist materials. This consensus document is only intended to apply to antenna supporting structures that are governed by the ANSI/TIA=222 Standard, as adopted by the International Building Code (IBC) and other jurisdictional building codes.
"On behalf of the SEMC, we are excited to release this White Paper in order to educate employers, employees and companies utilizing Powered Ascenders to further enhance safety in the communications infrastructure industry," said Jeremy Buckles, Chairman of the SEMC Committee. "The SEMC looks forward to continuing to fulfill our mission of advancing our industry's worker protection efforts through future testing initiatives and research," added Buckles.
SEMC would like to thank the following participating companies and organizations for their participation in the testing event and development of the white paper: Crown Castle, Deuer Development, GME Supply Co., Harken, MILLERCO, NATE: The Communications Infrastructure Contractors Association, Petz, Ronin, SafetyLMS, SBA Communications, Skylotec, and USA Telecom Insurance.