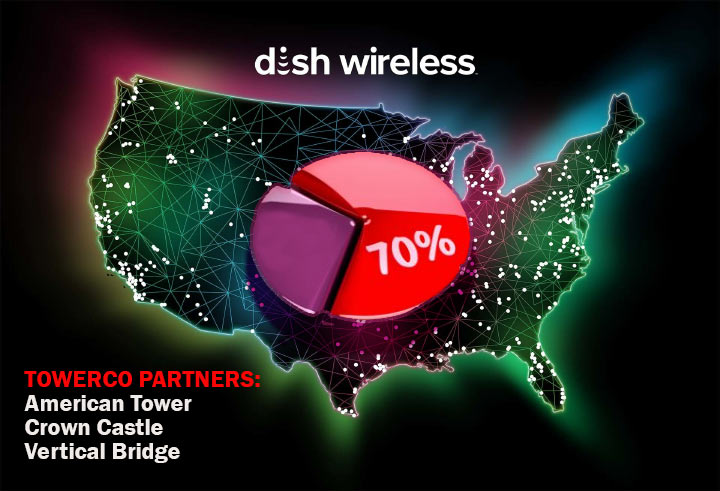 Dish Wireless announced yesterday that as of June 14, the carrier is offering 5G broadband service to over 70 percent of the U.S. population, giving more than 240 million Americans access to its technology.
This marks a significant milestone for Dish and the U.S. telecom industry, as Dish designed, built, and deployed a first-of-its-kind 5G network in three years. Dish has also satisfied all other June 14, 2023, FCC commitments, including launching over 15,000 5G sites.
Dish said it would file its FCC buildout report no later than July 14, 2023.
"Our teams have worked tirelessly for years, and this achievement is a testament to their dedication and commitment as we grow the world's first and only 5G cloud-native Open RAN network," said Dave Mayo, executive vice president, Network Development, Dish Wireless. "We appreciate the continued support and efforts of our partners as Dish continues to lead the industry in Open RAN deployment."
Key towerco SBA Communications isn't listed as a Dish partner
On February 22, 2021, Dish announced that it had inked a new long-term master lease agreement with SBA Communications that would allow it to access SBA's extensive nationwide portfolio of sites.
However, in announcing its 70% milestone, Dish directed viewers to view a list of its 48 partners that helped to build out its wireless network. Although American Tower, Vertical Bridge, and Crown Castle were listed, the nation's third-largest towerco is noticeably absent.
SBA CEO Jeffrey Stoops said in April of 2022 that Dish's "activity level is pretty broadly distributed. As we move through the year, things are known with a greater degree of certainty. But for the most part, we feel pretty good about Dish's contribution."
As is the policy of all towercos, SBA does not break down its revenues to the client level.
Four days before signing the SBA agreement, Dish announced that it had signed seven new tower agreements with Harmoni Towers, Mobilitie, Parallel Infrastructure, Phoenix Tower International, Tillman Infrastructure, Tower Ventures, and Vogue Towers to assist in its buildout. Only Mobilitie is listed as a partner.
Dish did not respond to a media request to clarify what is required to be a partner.