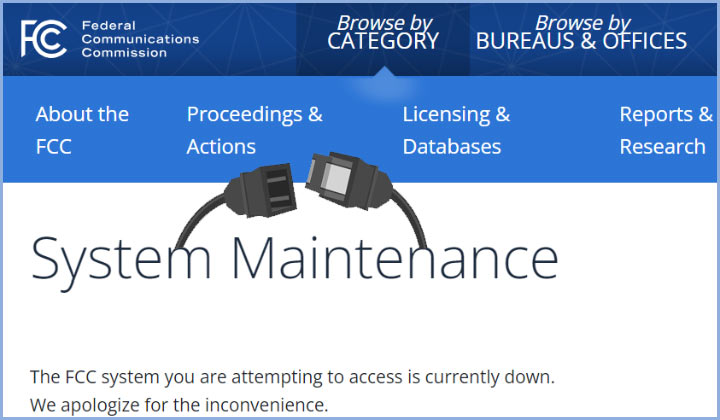 The FCC's Universal Licensing System (ULS) is currently down and not accessible to the public. This includes the Commission's License Manager, License Search, Application Search, Tower Construction Notification System, E-106 System, Antenna Structure Registration (ASR) Online Filing, ASR Application Search, ASR Registration Search, TOWAIR, and all ULS Specialized Searches.
The systems are anticipated to be down until at least next week. During this time, no applications may be filed through the database.
The FCC said that since parties have not and will not be able to make electronic filings or view the contents of the affected systems while they are unavailable, they are extending the filing deadlines for all regulatory filings that needed to be or will need to be made in these systems starting June 9, 2023, and until the Commission announces normal ULS operations, for at least three business days after access to the systems resumes.
For any review periods for Historic Preservation reviews, based on filings made in the TCNS and E-106 systems that were or are in progress during the period of unavailability, those review periods are paused while the systems are unavailable. Accordingly, review periods will resume when the systems become available.