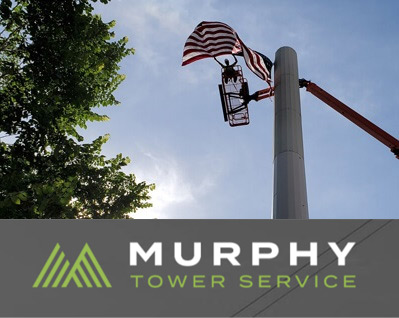 Murphy Tower Service LLC, a leading provider of wireless and wireline construction and maintenance services, recently placed a strategic investment in FieldSync LLC, a next-generation tower analytics provider.
By combining Murphy Tower's industry-leading capabilities with FieldSync's revolutionary approach to data acquisition, the partnership will accelerate the assessment, analysis, maintenance, and deployment of critical infrastructure.
"The investment in FieldSync further builds on our ability to serve customers with comprehensive, turnkey services," said Murphy Tower Service CEO Pat Murphy.
"It's another step toward offering everything our customers need, from inspections to construction to maintenance, by utilizing a trusted partner. FieldSync's unique combination of drone and climber-based data acquisition enables enhanced analytics and accelerates decision-making throughout the entire asset lifecycle. "We are thrilled to be partnering with the team at Murphy Tower," said Sam McGuire, FieldSync co-founder, and CEO.
"Together, we provide a first-of-its-kind offering for the telecom industry. By combining best-in-class tower service with next-generation data analytics, we believe we can fundamentally change the way customers are approaching asset management and network deployment strategies." Murphy Tower Service will immediately offer FieldSync's services to its customers across all of its 18-state service areas as part of its regular wireless service offerings. FieldSync currently offers its services in all 50 states.