UPDATE: June 9, 2015 – Wrongful death lawsuits have been filed on behalf of the administrators of Kyle Kirkpatrick and Terry Richard, both of Oklahoma, who were both killed when an SBA Communications tower collapsed on February 1, 2014, and personal injury lawsuits were filed on behalf of Randall McElhaney, of Texas, and Jerry Hill, of Oklahoma, who also sustained injuries in the collapse.
The lawsuits on behalf of Kirkpatrick, Richard, McElhaney and Hill name SBA Communications Corporation of Palm Beach Gardens, Florida and FDH Velocitel of Springfield, Illinois as defendants.
– – – – – – – – – – –
May 28, 2015 -The mother of a Nutter Fort, W.Va. volunteer firefighter is suing S&S Communications Specialists Inc. SBA Communications, and FDH Velocitel who she says were involved in the reinforcement of a 340' guyed tower when it collapsed and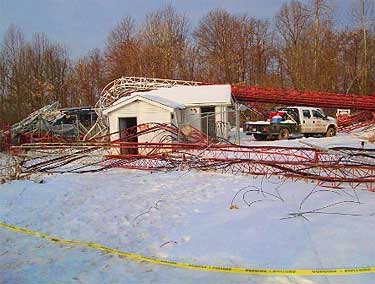 killed two of S&S's employees as well as her 28-year-old son when he tried to assist other injured workers on the ground.
The lawsuit also names the Summit Park Volunteer Fire Department and its former chief, Brenda Fragmin, as defendants, citing a National Institute for Occupational Safety and Health (NIOSH) investigation that "identified an ineffective incident command on the part of Defendant Summit Park and Defendant Fragmin as one of the contributing factors."
An S&S crew was replacing bracing on the SBA-owned tower on Murphy Run Rd. when it collapsed on Feb. 1, 2014.
Garrett was killed when a second tower also owned by SBA collapsed after it was later toppled by the first tower and part of it struck him. Fragmin had told Garrett and other Nutter Fort volunteer firefighters to remove a worker who had been injured when the first tower had fallen, the complaint alleges, based upon the NIOSH report.
Although Garrett's Nutter Fort deputy chief had contacted central dispatch and said he was taking command after he briefly spoke with the SBA foreman, according to the NIOSH investigation, Garrett and others were taking directions from Fragmin who had arrived just minutes before. She commanded a four-member volunteer fire department
Typically, NIOSH does not immediately investigate a fatality, but their speedy review of the three-fatality incident provided the plaintiff with immeasurable information that might not have been available through discovery.
Lawsuit points out attempts to shield responsibility
SBA hired FDH and S&S to perform work on the larger tower, the lawsuit alleges. FDH Velocitel is a defendant in the lawsuit along with FDH Inc. and FDH Engineering Inc. because Velocitel acquired FDH in February, renaming their company FDH Velocitel.
The lawsuit states that wireless construction is dangerous partially because the layers of companies used in performing the work are often employed in an attempt to shield various companies involved in the work from ultimate responsibility.
"The layering of companies in the cellular tower industry also creates an environment whereby the companies with the most direct exposure to the danger are: (a) the least knowledgeable regarding the engineering principles underlying structural integrity of the towers; and (b) without the financial resources or ability to acquire such knowledge," the lawsuit states.
Lawsuit: SBA and FDH should have provided plans for brace removal
The complaint alleges that SBA hired FDH to provide engineering drawings and requirements to reinforce the tower by replacing braces and guy wires, knowing that S&S had no engineering expertise or knowledge to know the proper "order, sequence and method of replacing the supports and the guy wires."
It also states that based upon the price awarded to perform the job, there was no money in it for S&S to obtain the engineering expertise to provide a safe installation.
Following the incident, OSHA cited S&S with two Serious violations, one of them identifying that S&S should have had a rigging plan in place as required in guidelines set forth by ANSI/TIA-1019-A.
OSHA did not cite SBA because SBA was not the controlling contactor, a difficult assertion to make since SBA would have had to have had a representative on the jobsite, or had previously told S&S how to accomplished the work.
As in most contractor agreements, the contractor asserts that based upon the agreed amount to be paid, it has the knowledge and qualified personnel to complete the work according to all bid specifications and requisite standards
However, the civil action is claiming that it was FDH and SBA's responsibility to ensure that they provided guidance regarding how the job was to be performed safely, although the plaintiff is also calling out S&S's responsibility to have followed the ANSI standard which could have prevented the incident.
The complaint claims that S&S didn't have the engineering expertise to do the job safely and didn't have the money to hire someone to instruct its workers, and SBA and FDH knew that.
The collapse occurred because employees were removing more than one brace at a time without replacing them or having a redundant system in place, the lawsuit asserts, citing investigations by State Police and OSHA.
Number of braces removed are in dispute
S&S crew member Joseph Neel told West Virginia State Police that two support braces had been removed at one time. Technician James White said three braces had been removed. However, he also told another individual that four to five braces had been removed without being replaced, according to the complaint.
The complaint also claims that prior to reinforcing the structure, SBA installed additional equipment and materials on the tower.
The lawsuit, filed by Clarksburg attorneys Tim and Doug Miley on behalf of Faith M. Garrett, administratrix of the estate of Michael D. Garrett, demands a trial. It seeks compensatory and punitive damages.
Doug Miley informed Wireless Estimator that he would not be providing any comment at this time.
Harrison County Circuit Judge James A. Matish has been assigned the case.
Oklahoma tower technicians employed by S&S, Kyle Kirkpatrick, 32, from Hulbert, and Terry Lee Richard, Jr., 27, of Bokoshe, were killed following the collapse.
Although the decedents' families have reportedly hired attorneys, there have been no civil suits filed to date.
S&S was cited by OSHA for two violations totaling $14,000 in fines as a result of the incident. The company contested the charges on Aug. 15, 2014. In a formal settlement reached on March 3, 2015, OSHA reduced the fines to a total of $11,900. The case was closed on May 20, 2015.