Wireless industry news in America sometimes catches viewers off guard with weird events, but our nation doesn't have exclusivity – especially in the past week.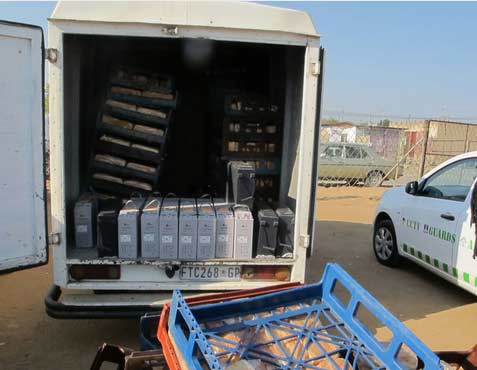 In Pretoria, South Africa, police arrested a 29-year-old man after he was found in possession of 12 Vodacom backup batteries. Although that's becoming a frequent occurrence in the U.S., the vehicle he was transporting them in and the method for his apprehension, which could possibly be tagged as breaking and baking news, are unique.
According to the Pretoria Central Police, the stolen batteries were being transported in a delivery vehicle, surrounding by racks with loaves of fresh baked bread.
But for those entrepreneurial U.S. criminals that might be considering a change of venue, it's strongly suggested that they consider the exchange rate which has lost over half its value in the past five years – much to American Tower's chagrin since they have a nice-sized portfolio there — but more importantly, it appears that Vodacom has GPS trackers in the UPS batteries.
A private investigator for Vodacom tracked the batteries to Olievenhoutbosch, and along with local authorities, arrested the man.
The same vehicle is alleged to be involved in another similar incident.
And here's another reason why theft in South Africa isn't a good idea. If you're caught stealing batteries from multiple sites, it would probably be a Schedule 5 offense with the minimum sentence being 15 years for a first-time offender.
Nearly 70% of cell towers in South Delhi are illegal
At first glance it appeared that a newspaper's headline in India that said that 70% of the cell towers in South Delhi were constructed illegally was a typographical error, but it's correct, according to the South Delhi Municipal Corporation.
Out of a total of 3,670 towers, 2,537 are installed illegally according to the SDMC. The corporation has decided to take action and have the towers removed, while promoting their municipal rooftops for alternatives.
The North Delhi Municipal Corporation has previously said that approximately 50% of all of its cell site locations are illegal.
American Tower has a considerable tower footprint in India. The company said last year that the cost to build a tower in India was between $30-$50K. Presumably that includes permits. The typical tower construction cost in the U.S. for American Tower is $225-$275K; Latin America, $125-150K; and Africa, 150-175K.
Tower techs to finally get needed police protection during site erections
The Madras High Court Bench in India said this week that companies that are legally building cell sites, which in South Delhi would be only 30% of all projects, should be accorded police protection, and residents did not have the right to stop the erection of those sites because they are apprehensive about the health hazards that the site could possibly cause.
Justice S. Vimal ruled on a petition by a telecom company requesting the Oomachikulam Police to provide protection for its tower workers. They have refused in the past to provide security.
"If there is any objection for erection of cell phone towers, the objectors will have to work out their remedy in the manner known to law instead of preventing the persons concerned from putting up construction. In the absence of any illegality or unlawful activities, no one can interfere with lawful activities," the judge said.