During an executive breakfast panel at the 2015 Competitive Carriers Association conference in Fort Lauderdale, Fla. today, T-Mobile's North American Vice President of Radio Network Engineering Mark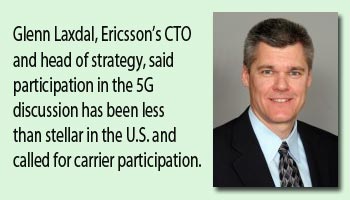 McDiarmid and Ericsson's CTO and Head of Strategy Glenn Laxdal said North American participation in the global 5G discussion has been less than stellar and called upon U.S. operators to get involved.
"Regional leadership is extremely important," Laxdal said. "Until 2015, the prevailing discussion of 5G was being driven by Japanese and South Korean carriers that saw a need to move forward very aggressively to 5G. But I think it's really important that we now have the North American carrier base starting to discuss 5G in a more forceful way, in a more public way."
Ironically, as Laxdal was asking for U.S. involvement, Huawei and NTT DoCoMo were cranking out press releases announcing that they had just completed the world's first large-scale 5G field trial.
McDairmid told attendees that consumers should be targeted to take an interest in 5G discussions.
The panel was moderated by Sue Marek, Editor-In-Chief of FierceWireless.