Huawei announced today the world's first successful large-scale field trial of 5G new radio access technologies. The field trial was conducted jointly with NTT DoCoMo, Inc., Japan's largest mobile service provider.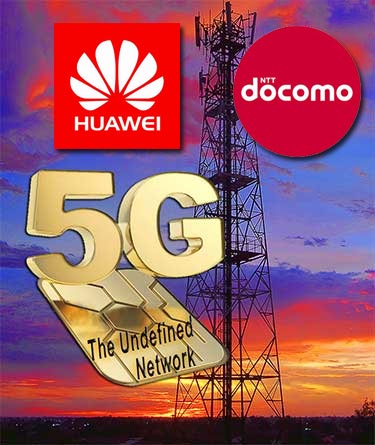 Experts from both companies participated the field trial in an outdoor test site in Chengdu, China. As an on-going field trial, Huawei was able to stream live video of trial activity to its booth at the CEATEC JAPAN 2015 trade show at Makuhari Messe in Chiba.
5G technology is expected to offer 50 times the throughput of LTE and be able to accommodate the anticipated explosion in Internet connected devices. Huawei sees this latest test with DoCoMo as a key step toward accelerating 5G standardization.
Today's trial represents the first large-scale Multi-User MIMO (MU-MIMO) technology test, with a concurrent connectivity of 24 user devices in the macro-cell environment on the sub-6GHz frequency band, in conjunction, it is also the first time to validate the performance of Sparse Code Multiple Access (SCMA) and Filtered OFDM (F-OFDM) in the field, both of which are 5G new air interface technologies proposed by Huawei. The cell average downlink throughput of MU-MIMOs is 1.34Gbps, with 3.6Gbps on download peak throughput in a 100MHz ultra-wide band channel; these speeds are more than 10 times faster than single layer Single User MIMO (SU-MIMO) technology. The joint trial of 5G new radio access technologies is a key step toward accelerating 5G standardization and commercialization.
"As the first in the world to succeed with such a large multi-user environment test, this is an important milestone," said Mr. Takehiro Nakamura, Vice President and Managing Director of NTT DoCoMo's 5G Laboratory. "This is very encouraging as the industry works to commercialize 5G by 2020. Both Huawei and DOCOMO teams have made tremendous efforts. I look forward to even more impressive results when we move to the next phase of field trial in Japan."
"This joint field trial represents a significant advance toward fulfilling Huawei's commitment to developing 5G technology standards before 2018," said Dr. Wen Tong, Huawei Fellow and CTO of Huawei Wireless Networks. "Results like these show we are making rapid progress and are on the right path. I am confident that what we have learned here will be reflected in even more innovative technological advances as we continue working on 5G research."
Huawei and DoCoMo announced their partnership on joint trials of the new air-interface technologies for 5G in March 2015. The current field trials are taking place at a dedicated test site in Chengdu that enables both companies to systematically verify these technologies, including MU-MIMO, F-OFDM and SCMA.
Integrating and testing the MU-MIMO, F-OFDM and SCMA as 5G new radio technologies solution is one of the key to enable higher spectrum efficiency for enhanced mobile broadband as well as to enable the massive machine type communications and mission critical reliable communications for 5G. Huawei plans to launch the first 5G pilot networks with its partners in 2018, and aims to contribute to the 5G industry ecosystem to complete interoperability testing in 2019, and commercially launch 5G networks in 2020.
In addition to the live video stream of the large-scale MU-MIMO field trial, visitors to Huawei's booth at CEATEC JAPAN, the nation's largest showcase of cutting-edge IT and electronics, can also see the world's first 5G SU-MIMO prototype operating on 200MHz bandwidth of sub-6 GHz spectrum with a peak rate reaching 10Gps. The company is also showcasing its latest Smartphone and other consumer devices  at the show in Chiba's Makuhari Messe, Hall 2, booth #2L50, from today through October 10.