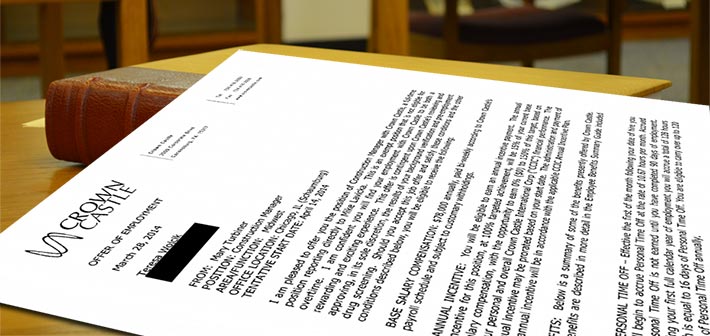 A former construction manager was offered $100,000 plus her attorneys' fees by Crown Castle USA, Inc. to settle claims for back overtime wages she said she was due after she worked for 43 weeks that ended February 9, 2015, but she didn't accept the offer and may now be responsible for her attorneys' costs moving forward in a case that Crown Castle now wants to be put on hold while the U.S. Supreme Court weighs whether a rejected settlement offer defeats a class action lawsuit that is being led by Teresa Wojcik.
Wojcik stated in a complaint filed in March that Crown Castle improperly classified her as exempt from overtime payment under the Fair Labor Standards Act (FLSA) and she is hoping to represent a nationwide and Illinois-based class of other construction managers Wojcik says didn't perform the management work necessary to be labeled as exempt under the FLSA or the Illinois Minimum Wage Law.
Construction manager said she was required to work 60 hours every week
Wojcik says she was required to work 60 hours a week to complete her work while being paid an annual salary of $78,000 with the possibility of a $17,550 incentive bonus.
In court on Monday, Wojcik's attorney argued before U.S. District Judge Gary Feinerman that if the case had to wait upon a Supreme Court decision then "you'll never hear a class action."
In August, the Seventh Circuit overturned a previous decision that offering the lead plaintiff the relief they are seeking stops a class action from moving forward and the lawsuit can proceed.
Although Crown Castle's attorneys recognized that Wojcik can continue her claims and seek class certification, they're asking Judge Feinerman to rule on the company's motion to dismiss until the Supreme Court decides a circuit split on the rejected settlement offer argument.
Crown Castle's attorneys say the law surrounding an unaccepted offer of full relief is by no means crystal clear.
Judge is not pleased about having to wait another eight months
The tower consolidator said it wanted a "modest stay" in the case so that the parties don't continue to litigate a case that may already be doubtful, and the Supreme Court's ruling may entirely dispose of Wojcik's action.
The Supreme Court will hear oral arguments on the debate this month, but its decision might not be made until possibly June, and Judge Feinerman wants additional briefing in the case and will review it at the end of October to decide if the case should be put on hold for another eight months.
Crown Castle said that it would pay Wojcik an inflated amount of $100,000, but continues to deny liability for the alleged FLSA violations, and wanted to "avoid the uncertainty and expense of further litigation."
In a document sent to Wojcik's attorneys, Crown Castle's attorneys cautioned that facts would disprove that Wojcik worked 60 hours per week, but they would compensate her at $56.25 for each overtime hour and double it for liquidated damages which would be $112.50 for each overtime hour.
Crown says the $100,000 could easily shrink to $22,000 or less
Crown Castle said that even though they disputed that Wocjcik would be successful in getting liquidated damages they said they would pay them, but "her best day in this litigation is still less than the $100,000 set forth in the offer of judgment."
They said her best case recovery would be based upon settled case law that would use the following half-time method based upon her $78,000 salary.
$1,500/week/60hours = $25 hour
½ time = $12.50/hour
$12.50 x 20 hours = $250 week
$250/ x 2 (FLSA liquidated damages) = $500 per week
$500/week x 43 weeks = $21,500
2% penalty x $500 x 43 weeks = $430
$21,500 + $430 = $21,930
Crown Castle cautioned that even if Wojcik prevailed on her exempt status, "Defendant's offer of $100,000 is nearly five times what Plaintiff reasonably can expect to recover in this litigation."
The attorneys also said that by not accepting their offer, Wojcik would run the risk of being liable not only for her own litigation costs, but their costs as well.  "In a case like this, where multiple depositions are likely to occur, those costs will be substantial."
Crown Castle's offer was served on Sept. 3, 2015 and was withdrawn after Wojcik did not accept it by Sept. 18, 2015.
Plaintiff says she wasn't sure about the legal definition of "exempt"
An offer of employment accepted and signed by Wojcik by on March 28, 2015 began with: "I am pleased to offer you the position of Construction Manager with Crown Castle, a full-time position reporting directly to Mike Lavicka. This is an exempt position that is not eligible for overtime."
Wojcik's attorneys said that she "denies that she understood that Crown Castle was making a legal classification that the position was exempt under the FLSA and that it was not eligible for overtime pay."
Lawsuit is similar to Goodman Networks class action
Last August, a class member lawsuit was filed against Goodman Networks in Texas, demanding a jury trial, to decide whether a number of construction managers were due overtime pay for the hours they were required to work in excess of 40 hours per week.
The lawsuit reasons that the construction manager's primary duty is "to inspect worksites and report to supervisors who hold decision making authority."
"Any decision to plan or delay projects, budget, coordinate or pay is not within the discretion of Construction Managers," the complaint said, stating that other than a title of "manager" attached to the plaintiff and class members' job title, no basis of an exemption had been offered by Goodman.
Wojcik's attorneys said Goodman's construction managers, who brought the class action, have primary job responsibilities nearly identical to those of Crown Castle's construction managers.
Wojcik is represented by Edelson, Eve-Lynn Rapp, Rafey S. Balabanian and Benjamin Richman of Edelson PC and Nicholas C. Syregelas of Nicholas C. Syregelas & Associates.
Crown Castle is represented by Harry Secaras, Colleen Grace DeRosa and Michael D. Ray of Ogletree Deakins Nash Smoak & Stewart PC.