AT&T said yesterday that the company is offering up to $250,000 for information leading to the arrest and conviction of those responsible for fiber vandalism across Alameda County in California.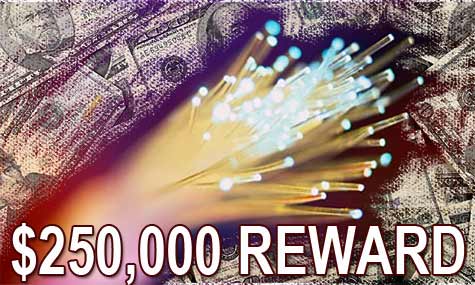 AT&T spokesman Jim Greer said vandals cut fiber in two different manholes about 10:30 p.m. Monday at Altamont Pass and Carroll Road in Livermore, causing Internet service to go out. On Wednesday morning, crews had restored all service in the San Francisco Bay Area suburb.
This vandalism is one of at least a 14 fiber-optic cable cuts in Northern California in the past year, the FBI announced earlier this year. Level 3 Communications and Zayo Group have also had their fiber lines vandalized.
The FBI believes that whoever vandalizing the network usually opens an underground vault, climbs inside and then cuts through the cables' protective metal conduit before severing the lines themselves.
It's possible that the person who has been attacking the cables is dressed as a utility company employee and could be a disgruntled employee.
Earlier this month AT&T offered up to $10,000 for information leading to the arrest and conviction of those people responsible for attempted copper theft in Ukiah that caused damage to a fiber line.
Security experts interviewed over the past months by the media have stated that there is a possibility that the vandalism could be terrorists probing the nation's infrastructure and identifying ways to cripple it.