Based upon an executive order signed by President Obama last week, wireless contractors with contracts from the federal government, as well as their subcontractors, will be required to provide up to seven days of paid sick leave a year starting January 1, 2017.
It is likely to affect the cost of FirstNet's deployment of the $7 billion 700 MHz nationwide public safety broadband network, fully funded by Congress, as many subcontractors that currently don't provide this employee benefit will have to cover the expense of paid leave if they plan on providing services for the multi-year buildout.
According to a July 2015 report by the Bureau of Labor Statistics, an average of 61% of workers in the private sector receive some type of paid sick leave, but for workers doing installation, maintenance and repair the number drops considerably to 43%. And for many smaller wireless contractors working on razor-thin margins, the percentage might be even lower.
The order requires contractors to give their workers the ability to earn up to seven days (56 hours) of paid sick leave each year. Workers will earn an hour of paid leave for every 30 hours of work and can use this leave to care for themselves or family members.
Workers can carry over unused leave from year to year and unused leave will be reinstated for employees rehired by a covered contractor within 12 months after a job separation.
Payment for unused leave upon job separation is not required under the executive order.
Paid sick leave earned may be used by an employee for an absence resulting from:
Illness, injury, or medical condition;
Obtaining diagnosis, care, or preventive care from a health care provider;
Caring for a child, a parent, a spouse, a domestic partner, or any other individual related by blood or affinity whose close association with the employee is the equivalent of a family relationship who has need for diagnosis, care, or preventive care, or is otherwise in need of care; and
Domestic violence, sexual assault, or stalking.
Sick leave could be abused
Workers in established companies would benefit by not taking unnecessary sick leave and accruing additional weeks to financially assist them in case of a catastrophic illness.
However, it is likely that many workers would take advantage of the paid sick days when they become available since some contractors aren't financially stable, and even if they are, the industry's cyclical downturns oftentimes requires layoffs.
And whereas in most businesses an employer could let the work of the employee on sick leave go unfinished or they could sacrifice service, productivity and sales, wireless construction doesn't accord that luxury.
Projects have severe deadlines and are typically done by skeleton crews on a normal basis. Industry observers will likely point out that pushing men and women too hard in the field is an open invitation for increased accidents and possibly fatalities.
In addition to absorbing the cost of sick leave, studies have found that overtime rises considerably when a field worker calls in sick.
The worker must give at least seven days' prior notice of the need to take leave if the need for leave is foreseeable, or as soon as practicable if the need is not foreseeable. If the worker takes more than three consecutive workdays of leave, certifications supporting the need for leave must be provided within 30 days from the first day of leave.
Although there are three states that require paid sick leave, Connecticut, California and Massachusetts, the rest of the nation has stayed away from mandating it, and the "Healthy Families Act," which would require all businesses with more than 15 workers to provide up to seven days of annual paid sick leave, has failed every year after being presented since 2004.
But the White House appears to be banking on Obama's executive order to prod lawmakers to pass legislation requiring all states to provide paid sick leave and other benefits to workers, not just those employees working on federal projects.
It already has new supporters. A group of 203 faculty members at top U.S. business schools signed a letter Tuesday urging Congress to expand protections that would offer paid family and sick leave to anyone with a job.
Some states are considering legislation that would prevent municipalities passing paid sick leave laws for private enterprise. New Jersey, however, is considering a bill for sick leave leave benefits, but it is stalled over whether the statewide law should supersede nine municipal paid sick leave laws approved in recent years. Governor Christie has expressed his opposition to the law in the past.
Sick leave compliance for FirstNet contractors unknown at this time
Since compliance requirements with the executive order still float in uncharted waters, it is not fully known whether the FirstNet project will require adherence, but on the surface it might since a request for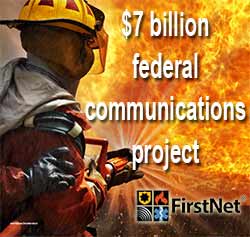 proposals from contractors isn't going to be available until possibly December and it could take another year or more before awards are made.
However, the executive order states that federal contractors and subcontractors will be required to update their purchase order and contract language referencing this new policy. This requirement will apply to new contracts entered after the January 1, 2017 effective date.
A request for information to the chief contracting officer for FirstNet was not returned.
The conundrum faced by contractors, based currently upon a lack of information, is if they accept a single job as a subcontractor on a federal project, following completion of their contract, would they be required to continue to provide paid sick leave?
That concern, amongst others, should be addressed when the Secretary of Labor is required to issue regulations to implement the executive order by September 30, 2016.

Federal contractors already saddled with additional employee contributions
Rafael Marrero, CEO of Rafael Marrero Company, a GSA consultancy firm that works with numerous industry contractors and is based in Coconut Grove, Fla., with offices in San Diego and Chicago, believes that the paid leave executive order is not healthy for businesses in general, and "will be adding substantial costs to the government and small business contractors with little or no actual benefit."
He noted as GSA and federal contract holders, most contractors are already subject to higher Davis Bacon Prevailing Wage rate stipulations.
"Many small business concerns, such as veteran-owned, woman-owned, and economically disadvantaged businesses now engaged in federal contracting attract and retain their workforce by offering competitive salaries that are higher than the industry average with generous fringe benefits like flexible health care plans for the employees and 401(k) retirements plans," Marrero said, adding that any additional employee benefits should be market-driven and not government mandated.
Many contractors are currently feeding from the federal trough
Many large contractors, such as Motorola, Lockheed Martin, Boeing, Raytheon and tower manufacturers have major contracts with the top four federal agencies, the Navy, Army, Air Force and the U.S. Special Operations Command, and provide communications equipment as well as maintain and install it.
Obama's order would require subcontractors to provide paid sick leave to their employees if they're providing services or materials to those contractors.
Then add in all of the work performed on a daily basis for the Defense Intelligence Agency, Federal Aviation Authority, Federal Bureau of Investigation, Fish and Wildlife Service and the Drug Enforcement Administration, Immigration and Customs Enforcement, plus many dozens of other alphabet soup agencies and you'll uncover a large number of industry contractors servicing them, all of which will be required to provide paid sick leave.