A Massachusetts contractor said that, although he had a worker who sustained jobsite injuries, his tower technician did not fall from a Crown Castle International tower yesterday in Gorham, Maine, as reported by a Maine newspaper.
In a Portland Press Herald article, based upon a police 'news release,'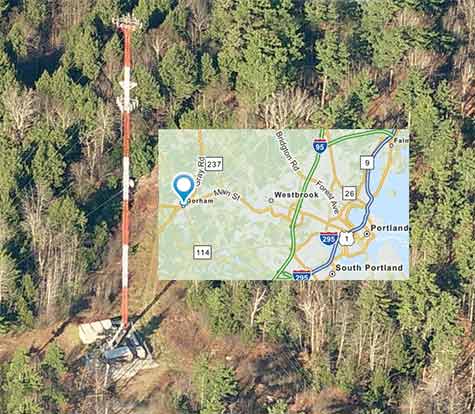 an employee of Centerline Communications of Raynham, fell from the 300-foot guyed tower while a crew was removing transmission lines and a mount, but according to Josh Gelman, Centerline Communications' owner, the tech was on the ground and was operating a cathead when he was injured.
Gelman said that the man is in stable condition and it is not known what injuries he suffered. He further informed Wireless Estimator that additional details will be provided following an investigation of the accident.
In a news release  provided to Wireless Estimator by Gorham Interim Chief Christopher Sanborn, the department did not state that the worker fell from the structure, but Officer Dean Hannon and Sgt. Michael Nault did identify that he was seriously injured while "removing cables and a section mount."
– – – – – –
Massachusetts tech suffers serious injuries after falling from a Maine cell tower
A Massachusetts tower technician who was working on a cellphone tower owned by Crown Castle International in Gorham, Maine suffered serious injuries after he fell off the 300-foot guyed tower Tuesday afternoon.
A news release from the Gorham Police Department said the man, whose name is being withheld pending notification of his relatives, was part of a work crew from Centerline Communications in Raynham, Mass., that was removing transmission lines and a section mount, when he fell, according to the Portland Press Herald.
The accident took place around 3:18 p.m. at 11 Kimballs Way.  The tech was transported to Maine Medical Center in Portland with what authorities described as "serious" injuries. His condition was not available Tuesday night.
Police say the man's family lives in Brockton, Mass.
The Maine Department of Labor is investigating the accident.
Wireless Estimator will provide additional information as details are released.