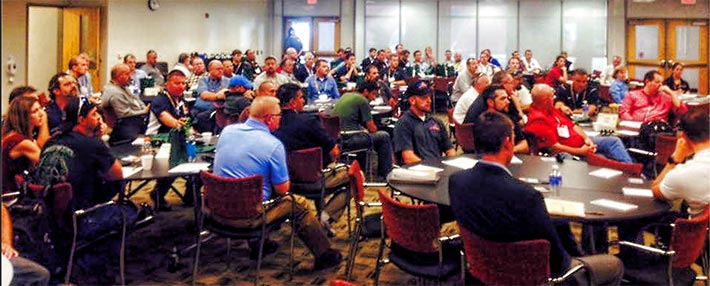 The National Association of Tower Erectors (NATE) announced today that the first NATE Regional Meeting held on Friday, Sept. 25, 2015 at the Kankakee Community College Banquet Center in Kankakee, Ill., was a tremendous success. The meeting focused on key industry safety and health initiatives and offered excellent networking and professional development opportunities for meeting attendees.
"This was such a successful event because so many people came together and supported it; from the NATE Board of Directors, committee and subcommittee members, sponsors, guest speakers, and both current NATE members and non-members," said NATE Member Services Committee Member, Diane Mueller of Primus Electronics in Morris, Ill., one of the event's sponsors. "We hope to have more regional meetings in the future to continue to spread the word about NATE and safety, and create additional opportunities to network and share issues and ideas among others in our industry."
"The organizers of the first NATE Regional Meeting must be congratulated for their efforts and professionalism displayed during the meeting, along with the presenters who were well versed in the information they presented," said NATE Member Services Committee Member, Clement Rolle of Bahamas Telecomm. Co. Ltd. in Nassau, Bahamas. "This truly was a job well done," added Rolle.
"Trying something new can sometimes be challenging, but through the support of nearly 130 attendees, guest speakers, sponsors, and the Kankakee Community College's facility, the first NATE Regional Meeting was a success," stated NATE Member Services Committee Member Tommy Lewis of Hayden Tower Service, Inc. in Topeka, Kan., another sponsor of the event.
For more information on NATE, and to stay current on upcoming NATE Regional Meetings, visit www.natehome.com.