An original oil painting by award-winning artist Joanne Shellan from Seattle, WA, was auctioned off last night in spirited bidding that topped out at $10,000 at the Tower Family Foundation auction at NATE UNITE 2015 in Lake Buena Vista, Fla.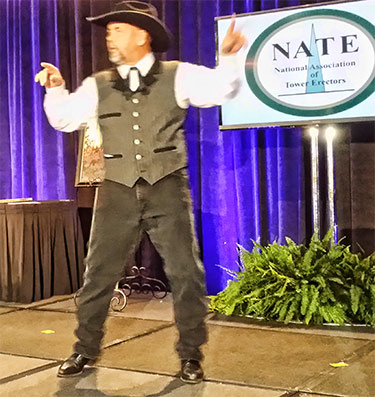 The painting, entitled "Almost Home," depicts a silhouetted tower climber descending the last section of a tower as the sun sets behind rolling hills.
The picture, donated by Legacy Telecommunications, Inc., was one of almost two-dozen sought after items in the auction that will assist the charitable foundation to help provide financial assistance to families of a severely injured, permanently disabled, or deceased tower worker.
The foundation raised approximately $75,000. Successful bidders also took home gifts such as two final round tickets to the PGA US Open and airfare donated by RF Industries and a Peyton Manning Helmet provided by Centerline Solutions.
When the foundation began planning the auction last year, their inquiries to auction houses found that they would typically take 15% of the generated sales.
Foundation President Jim Tracy, also a NATE Board of Directors member, wasn't comfortable with the percentage of funds that wouldn't be able to be provided to foundation recipients and enrolled in an auctioneer's school, and last night for those who didn't know it was Tracy thought he was truly a seasoned auctioneer who worked the bidders' energy like a fine fiddle.
This morning in a strained voice, Tracy said he was ecstatic by the auction's success.
The foundation doesn't evaluate fault or require membership in any organization in their actions to care for tower families.