Boca Raton, Fla.-based Phoenix Tower International (PTI) announced yesterday that it has entered into a contract with T-Mobile to acquire the ownership or management rights relating to approximately 600 wireless communication tower sites including the exclusive right to manage and operate the sites from T-Mobile via PTI's local US subsidiaries. Terms of the transaction remain confidential between the parties.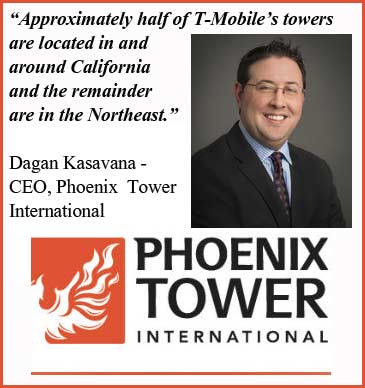 The acquisition, according to Dagan Kasavana, Chief Executive Officer of PTI, will bring his company's total tower count up to approximately 1,600 structures, with 620 in the U.S., 600 in Brazil, and another 400 spread across Latin America and the Caribbean.
In a cattle car buy in in 2012, Crown Castle acquired 7,200 T-Mobile towers for $2.4 billion. Kasavana told Wireless Estimator that the 600 towers that they were purchasing from T-Mobile were sites that, through lease terms or other agreements, could not be sold in 2012 and the remainder were through T-Mobile's MetroPCS acquisition and new sites that have been built in the past three years.
Kasavana said that "approximately half of T-Mobile's towers are located in and around California and the remainder are in the Northeast."
"We are incredibly excited to transact with T-Mobile and believe these locations are well situated for additional lease-up opportunities as the wireless operators continue to expand and improve their networks. The PTI management team has significant experience operating and leasing tower sites in the United States and is thrilled to have a significant portfolio of high quality sites in the United States to offer to our customers."
"Furthermore, this transaction represents another milestone in Phoenix Tower's expansion and allows us to service our customer's strategic needs across the Americas" said Kasavana.
PTI, owned by funds managed by Blackstone's Tactical Opportunities business, acquired T4U Holding Brasil, S.A.'s 529 towers in June, The Brazilian company also has a pipeline of 250 towers that are under construction.
Last September, PTI picked up 60 sites from American Tower Corporation in Panama.
TD Securities (USA) LLC served as M&A Advisor to PTI and provided financing for the transaction. Locke Lord, LLP acted as legal advisor to PTI. TAP Advisors served as exclusive financial advisor to T-Mobile. Lape Mansfield Nakasian & Gibson, LLC acted as legal advisor to T-Mobile.