In Sprint's earnings call this morning, the carrier said that they were going to have a massive network overhaul that will include thousands of new macro sites, tens of thousands of new small cells, and the upgrade of almost all existing sites to support its three spectrum bands, 800 MHz, 1900 MHz and 2.5 GHZ.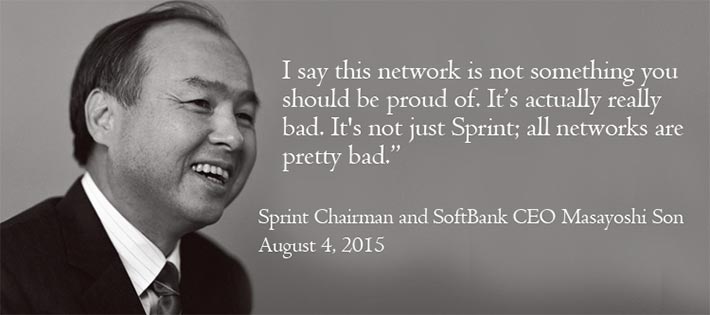 Analysts believe that Sprint will be using around 70,000 small cells for their "Next Generation Network," their densification plan.
It has been reported that Sprint has inked an agreement with wireless infrastructure firm Mobilitie, which will deploy around 20,000 of those small cells.
Sprint CEO Marcelo Claure said Sprint will rely upon the knowledge and expertise of its parent company, SoftBank, which, like Sprint, has deployed a 2.5 GHz TD-LTE network in Japan.
The company is rolling out two-channel (2×20 MHz) carrier aggregation, a feature of LTE-Advanced that combines bands of spectrum to create wider channels in the 2.5 GHz band, on select sites within various markets across the country.
Sprint Chairman and SoftBank CEO Masayoshi Son said that every night, from 10 p.m. to 2 a.m. in Japan he has been working with his engineers on Sprint's network plans. While the U.S. environment is different from Japan, most of the fundamentals of how to deploy the network "are exactly identical."
Son took the opportunity to criticize all carriers' networks during the carrier's fiscal first-quarter earnings call.
"Japan has the best network in the world," Son said. "To me, every time I come (to the U.S.) … I say this network is not something you should be proud of. It's actually really bad. It's not just Sprint; all networks are pretty bad. You have invented Internet; you have invented telephones … but the network is not something that you should be proud of."
"It's easy to spend money and get a result, but if you have less money and then still want to achieve the number one network, you have to use brains instead of money and muscle," Son said. "We have used brains a lot and created a lot of unique solutions that other companies do not have."
Claure said the carrier would be "extremely surgical and efficient by leveraging big data and network diagnostics" and other "new tools" to determine where it should deploy small cells on street level to improve the network.