Update: July 1, 2015 – Authorities have released the name of the pilot who died in a plane crash on Sunday, William Dalo, 55.
Dalo had been flying 26-year-old Collette Kenny, a tourist from Ireland, on a sightseeing tour when his plane struck a monopine owned by Crown Castle International.
Kenny underwent surgery for knee and shoulder injuries. Following the crash, Kenny was able to climb out of the plane. She is expected to make a full recovery.
– – – – – – – –
A man was killed and a female was seriously injured in Corona, Calif. yesterday after the homemade plane they were flying in crashed into a cell tower located just east of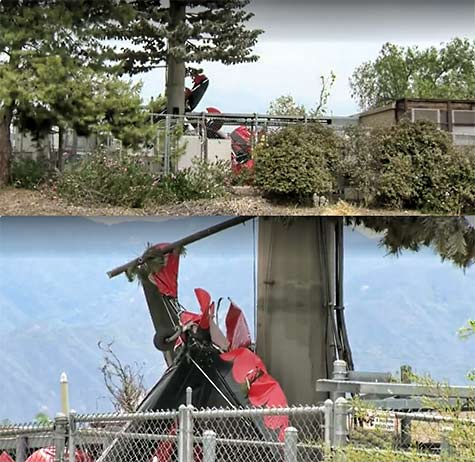 Lake Matthews, according to authorities.
Fire officials say one person was ejected and transported by ground ambulance to an area hospital with moderate injuries. The second occupant did not survive. They have not identified who was piloting the plane.
The structure's owner of the monopine is not listed in the FCC's database at the 20300 Farley Ave. location.
Southern California Edison crews turned off power to the cell tower so emergency personnel could work in the area safely.
The accident, which happened shortly after 12 p.m. yesterday, is the first known event of a plane crashing into a stealth structure.
The cause of the crash is under investigation by the National Transportation Safety Board.