Four lawsuits that were filed in June against a tower owner and the contractor it hired to design and manage a structural reinforcement project in West Va. where two tower technicians died and two were injured after a tower collapsed, have worked their way from circuit court to federal court, and the defendants are alleging that it was the tower crew's fault for taking out too many braces instead of replacing each one as it was removed.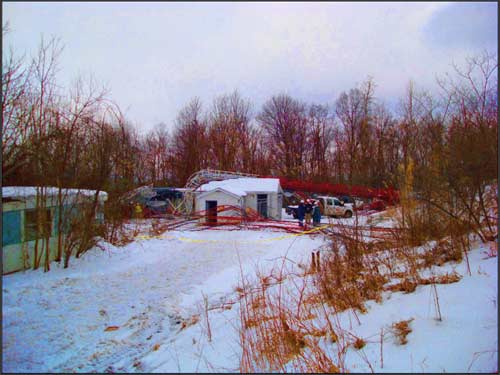 Wrongful death lawsuits have been filed on behalf of the administrators of Kyle Kirkpatrick and Terry Richard, both of Oklahoma, who were both killed when an SBA Communications tower collapsed on Feb. 1, 2014, and personal injury lawsuits were filed on behalf of Randall McElhaney, of Texas, and Jerry Hill, of Oklahoma, who also sustained injuries in the collapse.
SBA Communications Corp.; SBA Towers LLC; SBA Infrastructure LLC; SBA Network Services LLC; FDH Velocitel; FDH Engineering Inc.; FDH Innovation; and FDH Inc. were all named as defendants in the lawsuits.
The plaintiffs are stating in an amended complaint that their employer should have been provided with detailed plans as to how to handle the project located in Clarksburg, W.V. The defendants are stating the subcontractor employing the plaintiffs, S&S Communications Specialists Inc., represented that it was knowledgeable of the requirements for safely performing the services necessary, and was at fault when the tower they were working on collapsed due to their non-compliance with standards and industry practices.
In their answer to the plaintiffs' complaint, FDH Velocitel is requesting that it be dismissed from the litigation and be awarded its costs and attorneys' fees because, although it bought some of FDH's assets, that agreement wasn't signed until Feb. 13, 2015, over a year after the accident.
In addition, in a schedule in the agreement provided to the court, Velocitel specifically excluded in the asset purchase, amongst other redacted items, any documents, agreement, and any other items relating to the subcontract with FDH , Inc. of Raleigh, NC in their $242,982 contract with S & S Communications.
FDH Velocitel said that KCHM and Associates, Inc. formerly known as FDH Engineering, Inc. prepared engineered construction drawings for the structural modifications to the tower.
Prior to working on the tower that collapsed, according to FDH Velocitel, S&S Communications had performed many other similar structural modifications to operational cell phone towers both for KCHM and other companies.
The plaintiffs allege that KCHM awarded the bid to S&S, knowing that they were not qualified to do the work, while realizing that there were other companies that were qualified, but would charge too much.
On the day of the collapse, FDH Velocitel states, Kirkpatrick, Hill, Richard and McElhaney had each performed structural modification work on other towers.
Plaintiffs: Removing five braces and loosening 12 others caused collapse
FDH Velocitel alleges that Richard, Kirkpatrick, Hill and McElhaney were physically on the tower, and removed and/or assisted in the removal of approximately five diagonals, from the tower at one time, removing two diagonals each on two sides of the tower, and a fifth diagonal from the third side of the tower.
In connection with their removal of diagonals, the techs also loosened and/or assisted in the loosening a total of six diagonals above and below the diagonals that were removed, and these loosened diagonals were on all three sides of the tower.
No temporary bracing was used and the actions of the crew members caused the tower to collapse and it struck an adjacent tower, causing it to collapse as well, according to FDH Velocitel.
When the second tower collapsed, it struck Nutter Fort Volunteer Firefighter Michael Garrett, who later died that same day. His mother is suing S&S Communications Specialists Inc., SBA Communications, and FDH Velocitel as well as the Summit Park Volunteer Fire Department.
FDH Velocitel said the work being done by Richard, Kirkpatrick, Hill and McElhaney was negligently performed and was not done in a safe, careful, workmanlike manner, was not done in compliance with all rules and regulations applicable to the project, including all OSHA work place safety rules and regulations, and was not performed in accordance with the standard of care applicable to the removal and/or loosening of diagonals on a cell phone tower.
FDH Innovation is also demanding that the complaint against them be dismissed and they be entitled to receive all costs and attorneys' fees they have incurred, stating that FDH Innovation is not an entity, but a slogan formerly used by FDH Engineering, Inc., now known as KCHM and Associates, Inc.
Last week SBA Communications Corp., SBA Telecommunications, LLC said it only hires "experienced contractors who are aware of the relevant safety and industry standards and expects that, at a minimum, these standards will be adhered to by its contractors."
As an example the company stated that SBA hired FDH Engineering, Inc., a company with 20 years of experience in the towers industry, to perform inspection, engineering and engineering and construction services on the tower that collapsed.
It further pointed out that S & S Communications "market themselves as a company whose entire staff has at least three years of tower experience, with many having over 15 years experience, and who regularly performs the type of work FDH hired them to do."
It denied in the complaint that it had hired S & S Communications to do the retrofitting.
SBA also stated that S & S Communications went to the tower site without informing FDH and/or SBA, and without pre-fabricating the support diagonals they intended to replace, "and set about removing them faster than the men on the ground could fabricate replacement diagonals."
"That the removal of many support diagonals on a 300-foot tower might destabilize the tower and cause ts collapse is an elementary principle that S&S was aware of, but chose to ignore for the sake of speed," SBA said in a court document.
The complaint alleges that SBA had previously barred S & S Communications from "working as a contractor on SBA towers, and it knew or should have known that an S & S employee had previously died as a result of violating elementary safety procedures while working on a tower in 2009."
SBA denied the allegation, stating, "To the contrary, SBA was not utilizing S&S directly at the time of collapse due to the fact that S&S failed to provide SBA with an updated Certificate of Insurance," although the company later found that S&S was current.
In presenting the plaintiffs' foundation for the case, the complaint noted numerous articles that regularly appeared on WirelessEstimator.com that identified "problems occurred in the industry out of the use of contractors that lacked the competence, experience, knowledge and/or training." It also stated that the problem was well recognized by the National Association of Tower Erectors, "which among other things, developed a Checklist for Evaluation of Qualified Contractors."
In January, the National Institute of Safety and Health issued an extensive analysis of the W. Virg. tower collapse.