Sabre Industries, Inc. and FWT, LLC have announced that they have completed a strategic business combination. Based in Alvarado, Tex., Sabre is a leading producer of highly engineered structures used for electricity transmission and distribution and wireless telecommunication, offering a complete range of engineered towers, poles, and related services.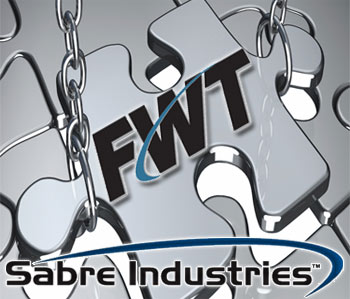 FWT is a Fort Worth, Tex.-based manufacturer of steel structures for the electricity transmission and distribution industry as well as the communications sector. Sabre is a portfolio company of Kohlberg & Company, LLC, and FWT has been a portfolio company of Satori Capital.
The business combination strengthens Sabre's market-leading position in the transmission and distribution structures sector. "This investment in FWT is a perfect combination with Sabre. It increases our industry-leading capabilities, expands our footprint, and brings FWT's history of quality and service," stated Peter J. Sandore, President and Chief Executive Officer of Sabre. "Together, we will be able to better serve our customers in the electricity transmission industry."
FWT will operate as a subsidiary of Sabre and will continue to serve customers from its plants in Fort Worth and Hicksville, Ohio. "FWT has a 56-year track record of providing outstanding quality and customer service, and we expect to continue serving our customers in the reliable manner that they deserve," said Fred Moore, FWT's Chief Executive Officer.
The business combination increases Kohlberg's commitment to the transmission and distribution structures industry. "Sabre, combined with FWT, is well-positioned to serve growing long-term demand for electricity transmission and distribution structures driven by an aging infrastructure, growth in renewable energy, and increasing demand for electricity," said Benjamin Mao, partner at Kohlberg.
FWT has been a Satori portfolio company since 2010. "FWT's leadership team achieved a great outcome for all stakeholders during a period of transformational growth," said Sunny Vanderbeck, managing partner of Satori Capital. "The team opened a new plant, elevated the quality of talent in key leadership positions, implemented lean manufacturing practices, doubled the number of major long-term customer contracts, improved relationships with critical suppliers, created hundreds of jobs, and more than doubled revenue and earnings."