When former Alaska Gov. Sarah Palin speaks before trade groups she typically tailors part of her presentation to industry-specific concerns, and most likely will touch upon tower climber safety when she talks at the industry's largest wireless

infrastructure conference for contractors and suppliers on Feb. 25, 2015 at NATE UNITE 2015 in Lake Buena Vista, Fla.
There is also a possibility that she'll address the need for less government oversight for Americans and small business entrepreneurs.
But you can be assured that as the industry rolls out 4G and other wireless services she'll want it to be done accident and fatality free; well, unless you're a caribou.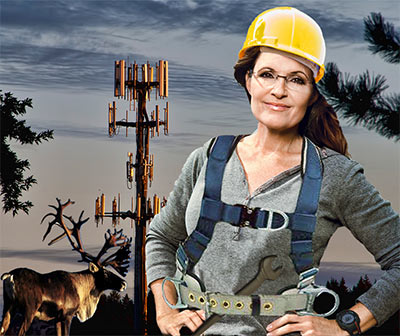 At a keynote speech in Texas for NAPE last week, she informed the North American Prospect Expo that if caribou died as a result of oil pipeline expansions they would just have to "take one for the team."
She told the enthusiastic crowd that concerns over the "moose and caribou" were blown out of proportion because the Trans-Alaska Pipeline "has not been adverse at all."
In fact, "the animals mate under the pipeline," the former Republican vice-presidential candidate remarked, admitting that she hadn't ever seen any moose making whoopee under crude oil pipes.
In an interview in 2008 when Palin was asked about Russian foreign policy, she stated, "They're our next-door neighbors. And you can actually see Russia, from land, here in Alaska, from an island in Alaska."
If she would take up a training company's invite to safely climb a tall tower, she'd be amazed at what thousands of climbers see every day, possibly even caribou copulating.
Palin celebrates SNL's 40th and NATE's 20th
Palin should be an interesting keynote speaker for NATE's 20th anniversary event, no matter what side of the political fence you're on.
The unflappable and unpredictable Palin showed up for Saturday Night Live's 40th Anniversary Special  tonight in a leggy mini dress.
In a skit with Jerry Seinfeld, she asked how much the show would pay her to run for president in 2016.
Seinfeld comically flinched for a moment and said, "No figure is too high, Sarah!"
She raised the stakes: "Hypothetically, then, what if I had Donald Trump as my running mate?"
SNL's Tina Fey developed a popular skit impersonating Palin during her vice-presidential campaign alongside John McCain in 2008, which reached a climax when Palin herself made a cameo.
The sketch drew in the show's highest overnight rating since 1994, with about 17 million viewers.
Although NATE's attendance is expected to reach a record high, Palin's audience will be a slight bit less.
The NATE UNITE 2015 Pre Show Planner highlights the educational sessions, certified courses, networking opportunities, exhibitors, exhibit hall activities, event sponsors, and the Lake Buena Vista area.