The U.S. Occupational Safety & Health Administration has issued a $114,800 fine for an Indiana wireless contractor, which it charges did not provide adequate protection for a 49-year-old worker who fell about 90 feet to his death while painting a communication tower on August 10, 2014.
Thomas Lucas of Toledo, Ill. fell 80 to 90 feet while painting a communications tower south of Stockton, Ill. at 13072 E. Morseville Rd. OSHA investigated the fatality and cited James Michael Sherwood, dba Sherwood Tower Service for two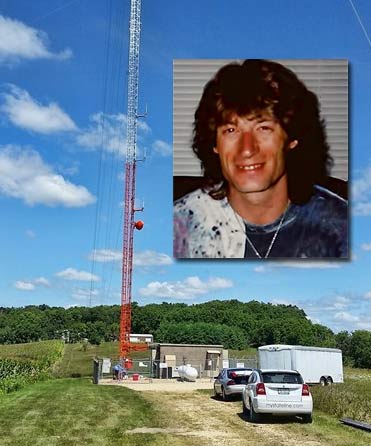 willful and one serious safety violation. The agency has placed the Terre Haute contractor in its Severe Violator Enforcement Program (SVEP).
Sherwood is the second industry company making what has been termed a "black list". Wireless Horizon Inc. of St. Peters, MO. was placed on the list last September.  SVEP companies typically have previous citations issued, but according to OSHA's establishment search database, Sherwood has had no citations in the past 10 years.
It is not known if Sherwood was providing an incorrect NAICS code to the company's insurance carrier, or if OSHA incorrectly listed it as:  238320/Painting and Wall Covering Contractor.
"Three children are without a father because of a preventable tragedy," Jacob Scott, OSHA's area director in North Aurora, Ill. stated in the agency's news release on Thursday. "No one should have to endure such a painful loss ever. Inspecting and making sure protective equipment is in use and working properly is a common-sense safety procedure that saves lives and prevents injuries. Companies that ask their employees to work above the ground have a responsibility to provide adequate fall protection to workers. OSHA has seen a disturbing trend in preventable deaths and injuries in the telecommunications industry."
In addition to the lack of personal fall protection during tower climbing activities, OSHA inspectors found that the positioning lanyard used by Lucas should have been replaced because it was heavily painted and showed visible signs of wear, damage and deterioration.
These failures resulted in the issuance of two willful violations with proposed penalties of $42,000 and $70,000. A willful violation is one committed with intentional, knowing or voluntary disregard for the law's requirements, or with plain indifference to worker safety and health.
Sherwood Tower Service had no safety and health program, resulting in the issuance of a serious violation and received a proposed penalty of $2,800. A serious violation occurs when there is substantial probability that death or serious physical harm could result from a hazard about which the employer knew or should have known.
Sherwood Tower Service, according to OSHA, has five employees.
The company began operations in 1986 and specializes in painting, antenna and line installation and tower lighting installations and repair, according to its web site.
The citations are available here.