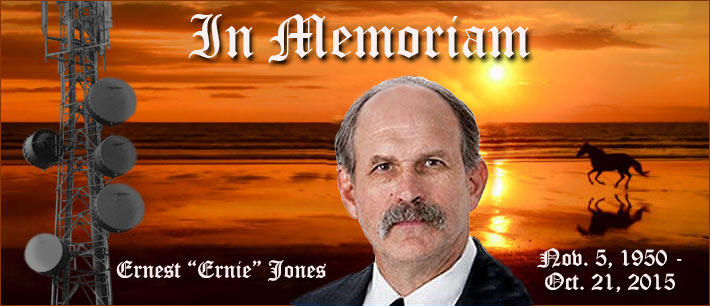 Services have been announced for Ernest "Ernie" Raymond Jones, 64, of Lynnville, Ind. who passed away Wed., Oct. 21, 2015 while inspecting a tower in Oklahoma City, Okla. He was born November 5, 1950, in Evansville, to the late Raymond E. and June B. (Beldon) Jones.
Ernie attended Rose-Hulman Institute for Engineering. He also attended The University of Evansville. He received his BSME from Rose-Hulman Institute of Technology in 1973. He was a member of the Lamda Chi Alpha Fraternity. Ernie was inducted into the Rose-Hulman Track and Football Hall of Fame in 2007.
A structural engineer, he worked in the tower industry for 30 years. Ernie was President of Consolidated Engineering, Inc. in Lynnville. He was Vice-President of Structural Engineering at Electronics Research, Inc. for 25 years.
Ernie's first wife, Christa, passed away in 2004. In 2006, he met Kathy. They both had a love for horses and quickly had a love for each other. He and Kathy began working on their blended families. They married in 2009. Ernie believed the Lord sent Kathy for him and his kids. They began building a new life together.
He married Kathy on Ground Hog's Day. Kathy picked this date, so it would be easy for him to remember their anniversary. Some years this worked. Last year, he was traveling and heard it was Ground Hog's Day. He immediately stopped his travels and called. This was typical Ernie.
Ernie was a humble man, a smart man, a servant to others, a man that could never say no, a man that treated others so well that no words can describe.
Kathy said, "I, like so many others, can never say enough good things about him! There is simply no way to ever replace this wonderful human being, husband, daddy, papa and pops."
The Jones family bought 100-plus acres of land in Lynnville in 2011. Ernie and Kathy formed a ranch called The Circle J/S Ranch. Kathy and Ernie decided to raise grass finished Omega-3 beef. Ernie's passion for the perfect product was unwavering. He studied books, attended seminars and searched the Internet.
Like everything Ernie tackled, he got the job done. Ernie had his grass fed beef tested at Kansas University in 2010. The results were outstanding. He and Kathy had created the perfect combination of Omega-3 to Omega-6 ratio in their beef.
Recently, Ernie and Kathy changed the name of their ranch to The Triple J Ranch. Named for Ernie Jones, Kathy Jones and their daughter, Angel Jones, whom they adopted after the death of Ernie's daughter, Katie. Working the ranch was a labor of love for Ernie and his family.
He is survived by his wife of six years, Kathy M. Jones; son Andrew; daughters, Karalyn and Angel; daughter by marriage, Megan (Leo); grandson, Michael; brothers, David (Teresa), Guy and Douglas (Dee) and many nieces and nephews.
Funeral services will be 11:30 a.m., Tues., Oct. 27, 2015 at Alexander North Chapel, 4200 Stringtown Rd., officiated by Pastor Randy Anderson, with entombment in St. Joseph Catholic Cemetery. Friends may visit Monday from 2:00 p.m. to 8:00 p.m. and Tuesday from 10:30 a.m. until service time at the funeral home.
Memorial contributions may be made to MADD Indiana Chapter, 9801 Fall Creek Road, Indianapolis, IN 46256. Condolences may be made online at AlexanderNorthChapel.com.