UPDATE: Oct. 28, 2015 – The head of the Internal Revenue Service told a Senate committee on Tuesday that its stingrays are only used in criminal investigations.
"It is only used in criminal investigations," Commissioner John Koskinen testified before Sen. Ron Wyden (D-Ore.) and the rest of the Senate Finance Committee. "It can only be used with a court order. It can only be used based on probable cause of criminal activity. What it does is to primarily allow you to see point-to-point, where communications are taking place. It does not allow you to overhear—the technique doesn't—voice communications. You may pick up texting. But what I would stress is that it does fol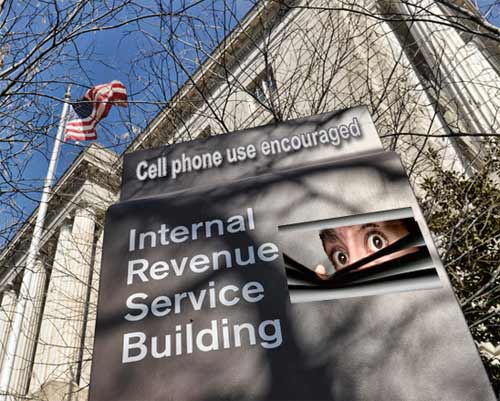 low Justice Department rules. It requires a court order. It requires probable cause with regard to criminal investigations. It is not used in civil matters at all. It is not used by other employees of the IRS."
---
The Internal Revenue Service is the latest US federal agency known to employ a Stingray device, typically called an IMSI-catcher or cell-site simulator.
Invoices obtained following a request under the Freedom of Information Act by The Guardian show purchases made in 2009 and 2012 by the IRS with Harris Corporation.
A redacted invoice from 2012 reports that the agency spent $65,652 on upgrading a Stingray II to a HailStorm, a more powerful version of the same device, as well as $6,000 on training from Harris Corporation.
It is not clear how IRS is using or has used the HailStorm. While the Criminal Investigations department of IRS doesn't generally focus on ordinary taxpayers, the agency does help follow the money in a variety of criminal matters, including situations where the IRS may team up with the FBI to bring down organized crime syndicates, terrorists and identity thieves in addition to financial institution fraud and public corruption.
The American Civil Liberties Union has identified that 12 other federal agencies employ Stingray-type cell-site simulators.
Those agencies include Federal Bureau of Investigation, Drug Enforcement Administration, the Secret Service, Immigration and Customs Enforcement, U.S. Marshals Service, Bureau of Alcohol, Tobacco, Firearms, and Explosives, U.S. Army, U.S. Navy, U.S. Marine Corps, U.S. National Guard, U.S. Special Operations Command and, the National Security Agency.
Recently, federal agencies have taken steps to increase the transparency around cell-site simulators and raise the legal bar for their use.
Last month, the Justice Department said it would seek official warrants before using the technology, and the Department of Homeland Security (DHS) followed their action last week.
Senator Patrick Leah (D-Vt.), however, is concerned about what he believes are limited protections.
"The Department of Homeland Security's new policy on cell-site simulators is a positive first step in responding to the very serious privacy implications posed by cell phone tracking technology, but it raises additional questions that must be answered.  Chairman Grassley and I called on DHS to establish a default warrant requirement, and to apply that rule to all agencies within the Department.  I am disappointed that DHS has included the same problematic exception to the warrant requirement that is in the Justice Department's policy.  Additionally, this policy is limited to criminal investigations, and it is not clear what rules will apply to any use of cell-site simulators for other DHS missions.  We must ensure stronger protections for the privacy rights of innocent Americans who are not the targets of an investigation."
Also, many people feel the new DoJ's and DHS's rules include too many exceptions. Federal agencies are allowed to skirt the rules in the case of "dire circumstances," such as when agents are attempting to avoid a death or injury, to keep a cellphone or other device they are tracking from being destroyed, or when a pursued criminal is in danger of escaping.