Although OSHA has not stated whether 28-year-old Stephanie Gurney's death on March 28, 2015 was industry related when she fell off of an SBA Communications tower near Eden, Tex., a Concho County Sheriffs Office Deputy's report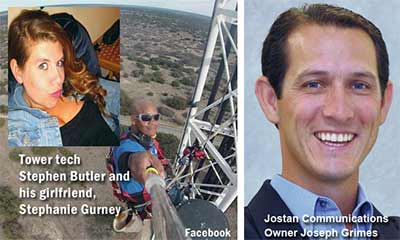 obtained by Wireless Estimator identifies that the woman was being assessed for her ability to climb by the owner of Jostan Communications for possible employment, with the guidance of her boyfriend, an employee of Jostan.
"It is clearly an industry related fatality," said an attorney who wishes to remain anonymous. "If this was a pre-employment capabilities assessment, it doesn't matter whether or not the deceased was being paid. That would be a workers compensation component to this issue, which is not what OSHA will look at in making a determination whether to cite the company for any infractions, but it's likely they're treating it as work-related fatality if it's been three months since the fatality," he said.
Gurney's death is now the first and only industry fatality in 2015 to date.
When Deputy Abel Quezada arrived at the guyed tower site at 11:40 a.m. as EMS workers were leaving the compound with Gurney to Concho County Hospital, he began questioning Jostan's owner, 40-year-old Joseph Grimes as to what occurred.
Jostan's owner says he was evaluating Gurney's capabilities
Grimes, according to Quezada's report, said that they were not performing any maintenance services at the site, but were "evaluating Stephanie's climbing ability" when the incident occurred.
Quezada reported that Grimes said that he and his employee, Stephen Butler, were on the tower with Gurney, and Grimes said he climbed down the tower and walked over to his truck as he received a phone call.
"I had my back turned to the tower. When I heard Stephen yell, I turned around. All I heard was Stephanie hit the ground," Grimes said.
Quezada secured the site and headed to the hospital and when he arrived he was informed that Gurney was deceased. He then called Grimes and asked him to meet him at the hospital where he informed Grimes and Butler that Gurney had passed away.
Safety harness not "hooked properly"
While there, Quezada asked Grimes if he could show him the safety harness that Gurney was wearing. Quezada accompanied Grimes to his truck, according to the document.
"When I took possession of the Harness," Quezada said in his report, "I laid it to one side and was looking at it. While looking at the harness Mr. Grimes stated, 'That hook is not hooked properly.' He then reached for the harness at which time I informed him that he had to leave it alone. He asked me if he could show me the way it should be hooked. I told Mr. Grimes we had to leave it the way it was."
Quezada secured the harness which was later turned over to OSHA.
While in the hospital Grimes said, according to Quezada, that Gurney had no climbing experience and he was observing her to make a determination as to whether she would be a potential candidate for employment with his company.
In a later interview with Sheriff Chad Miller, Grimes said "Gurney walked around the tower and check[ed] things out and took some selfies."
Grimes stated that he carries multiple harnesses with him and the first one was too small for the 170-pound, 5'-6" San Angelo woman, and they tried a larger one "which fit perfect."
He also stated in the report that he walked over to the tower "and before he lets anyone get off the ground he goes over all the safety features of the harness."
He then clipped Gurney off to the safety climb and climbed to 100 feet. At no time was Gurney disconnected, according to Grimes, who said Gurney "was having the time of her life."
Boyfriend witnessed Gurney's fall
Butler, who has acknowledged on Facebook and to the Sheriffs department that he was Gurney's boyfriend, informed Miller that as Gurney was descending he was approximately 20-feet above her where she was at approximately the 40-foot level. He said that he "looked down at Mrs. Gurney and saw her falling from the tower."
He said he then began climbing down the tower and when he reached the location where she was at before she fell "he observed her cable grab safety line was still attached to the safety cable."
Butler also stated that the end that attaches to her harness "had been removed and was clipped on to the tower," but he said he had to remove it so that he could proceed to the ground.
In contrast to Grimes' statement to Miller that he did not know if Gurney was interested in climbing for a living, but he was always looking for people who want to climb, Butler told Miller that she was not going to start working for Jostan, "she was just training with us."
This is in conflict with Quezada's statement that Grimes told him that "He stated he was observing her and upon completion of the evaluation he would make a determination as to whether she would be a potential candidate for employment with Jostan Communications located in San Angelo, Tex."
Miller said that "Grimes stated Mr. Butler and he had been talking about doing a training climb and he informed Mr. Butler if he knew of anyone that was interested [in] climbing he would hire and there was good money in it."
Permission to be on site by SBA is disputed
Grimes told Miller that he had permission to be on the SBA tower and "it does not have to be specified whether they are training or conducting work on the tower."
However, according to SBA Vice President, Risk Management David Sams, Grimes' statement is not true.
"At no time did any service contractor or carrier request access to the site for any reason on March 28, 2015," Sams said today.
Grimes has informed Wireless Estimator that he has provided OSHA with their requested information and is waiting for the decision or direction regarding the incident.
OSHA investigator Jerry Curns from the agency's Austin office was on site on March 30, 2015.
An OSHA spokesperson informed Wireless Estimator that they could not provide additional details as to whether Gurney's death was work-related and that the agency has six months from the date of the incident to provide a citation to Jostan, if it is decided that the activity was being performed under the request or authority of the tower contractor and there was a violation identified by the investigator.
Deceased's mother is contemplating wrongful death lawsuit
Although no lawsuit has been filed, Big Spring, Tex. attorney Robert Miller has informed Wireless Estimator that he has been hired to represent Lisa Weatherby, the mother of Gurney, to look into a lawsuit regarding the party or parties that were responsible for her daughter's death.
It appears that he might not see SBA Communications at fault since he said that he has been corresponding with their Texas attorney and he is being told that they did not authorize Jostan Communications to be on their site.
SBA has reportedly not asked authorities to cite Jostan with a trespassing charge.
Although Miller said that he is driven to assist Weatherby by compensating her for her loss and anguish, he would have to identify that there was negligence upon Jostan's part.
However, even if there was a lawsuit, against Jostan, the company appears to have few assets, according to an individual familiar with the company's operation. Miller will be required to identify if any mandated insurance policies are in effect and if they would be liable for Jostan's actions.
Jostan Communications is neither listed as a registered corporation in Texas, nor identified by corporate information web sites such as Manta.
Jostan's website, that does not identify a corporate location, says the company was founded in 2011 and it provides the "highest safety standards in tower operation." It also states that it provides multi-media and PC repair services.