Telesites SAB, a spinoff from Carlos Slim's America Movil SAB, has a majority of analysts recommending selling the shares. The wireless-tower company started trading in Mexico this week and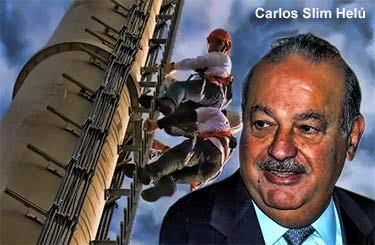 after its debut on Monday when there appeared to be market interest, it proceeded to drop yesterday 2.9 percent to 11.99 pesos ($.70).
Mexico City-based Telesites, created to manage the operator's 11,000 wireless towers, saw only one of five analysts recommend buying the shares while three recommend selling.
Telesites is Latin America's second-largest renter of tower space, with American Tower Corporation owning more than double Telesites' portfolio.
Under the spinoff program, America Movil shareholders received Telesites stock, which began trading Monday at 12.9 pesos ($.74) and immediately moved 1.5% higher.
Slim is the fifth-richest person in the world. When Wireless Estimator profiled him in 2012 he was the world's richest man.
Since the beginning of this year his fortune has declined by almost $20 billion, according to Bloomberg's Billionaire Index.
Shares of his America Movil SAB plummeted after Mexico put in regulatory controls that opened up infrastructure sharing that was primarily dominated by Slim for more than a decade. He owns 57% of the company.