American Tower benefits from rubbing elbows with the world's richest men's businesses
Update: November 15, 2012 - American Tower Corporation announced this morning that it has secured a deal to buy from KPN, 2,000 of its German subsidiary's towers for approximately $500 million. To gain a foothold in Europe, Carlos Slim, the world's

richest man, made a hostile and successful bid to acquire 28% of KPN in June. KPN's brand E-Plus has provided an initial lease term of 15 years on the towers, providing long-term stability to anchor tenant cash flows, according to ATC.

- - - - - - - - - - - - - - - - -
November 15, 2012 - Relationships are the fuel that feeds the success of any business, and American Tower Corporation's achievements are through key alliances they've nurtured over the years.


But two men, through their various corporations, could be the most influential in their international growth: Carlos Slim Helú, 72, the richest man in the world, and Ricardo Salinas Pliego, 56, the planet's 37th wealthiest man with a net worth of $18.5 billion, according to Forbes.

Slim lost $2.9 billion November 1 after the Colombian government announced that his Mexico City-based telecommunications company, América Móvil SAB, will be partially excluded from participating in an auction next year of 4G licenses, but he still remains the world's richest person with a $74.7 billion fortune.

Although Slim and Salinas might not break bread often - or at all - with ATC CEO Jim Taiclet or Executive Vice President of International Operations Hal Hess, much of what ATC does assists their businesses, and it would be expected that their companies would want to further their relationships.

Success in many countries requires Slim's and Salinas's support
ATC's association with Slim's major holding, América Móvil, representing 54 percent of his fortune, occurred after the Boston-based company reached an agreement across the border in 1999 with TV Azteca, SA, one of two broadcast companies in
Mexico, and Slim's competitor, to build 200 towers throughout the country for co-location opportunities.

ATC agreed to loan up to $120 million to the television network in exchange for annual net payments of about $13.9 million, plus the rights to all existing and future third-party revenue on the towers

TV Azteca, is controlled by Mexican broadcasting magnate Ricardo Salinas, possibly the man that has more influence over ATC's international growth than Slim.

He is also chairman of Mexican mobile carrier Iusacell. In the U.S. he owns Advance America – the largest payday lender in the country. In their 2011 annual report, ATC lists Iusacell as their top international revenue producer.

In 1990, for $1.7 billion, Slim won voting control of the state-owned phone company Teléfonos de México, which he renamed Telmex. His powerful friends were then influential in having the government award him the only nationwide cell phone license, providing him with a monopoly for many years.

A year after the TV Azteca deal, ATC struck an agreement with Salinas's Grupo Iusacell for 400 build-to-suit towers and the ability to market a portfolio of approximately 400 existing towers.

Buoyed by their success, they continued to expand, and last December announced that they had entered into an agreement to pay approximately $500 million for about 2,500 broadcast and wireless towers from Telefónica's Mexican subsidiary, Pegaso PCS SA, doubling their tower count in Mexico.

But if you want to be successful in Mexico, you've got to do business with Slim's monopoly.

América Móvil's brand, Telcel, commands a market share in excess of 70 percent, and the carrier remains a key driver in ATC's or any other tower company's lease-up success. Global Tower Partners is the only other America-based consolidator that markets Mexico. Their current tower count is approximately 435, according to their site locator.


In 2011, Mexico's Federal Competition Commission slapped a $1 billion fine on América Móvil, accusing it of abusing its dominant position in wireless.

In May, the antitrust commission said that it reversed the fine against América Móvil's Telcel after the company agreed to continue lowering mobile interconnection rates and take other measures to ensure its large network isn't used to sideline competition.

Slim's stranglehold on the wireless market created strange bedfellows in June, however, when Salinas partnered with his broadcasting competitor, Televisa, in Iusacell to challenge Telcel's monopoly.

Although Iusacell is the country's third largest carrier, its market share is only 6 percent.

América Móvil is also the dominant pay-TV provider in Latin America, surpassing satellite provider DirecTV.

ATC's and Slim's paths cross again in Europe
ATC has been searching for tower opportunities in Europe and reportedly was not one of the players shopping Dutch telecommunications firm KPN's towers in Germany that are used by its mobile carrier, E-Plus.

Reuters, Bloomberg and other financial media covered the offering being managed by UBS AG since last July and had identified the interested bidders as Swedish private- equity firm EQT Partners AB and the group of Antin Infrastructure Partners and TDF Group, but no U.S.-based tower consolidators were included.


Last week, however, both news agencies said that the Dutch phone company is nearing an agreement to sell its German mobile-phone towers to ATC, according to people familiar with the matter.

If their sources are correct, ATC's quiet maneuvering to land the KPN European deal could have had some assistance from Slim or his company.

While ATC was seeking opportunities in Europe, so was Slim's América Móvil.

To gain that foothold, Slim made a hostile and successful bid to acquire 28% of KPN in June.

KPN had frantically maneuvered to offer shareholders a reason not to accept the bid, negotiating to merge its E-Plus unit in Germany with Telefónica's O2 German mobile franchise, but Telefónica broke off those talks.

The German cell towers are expected to be sold for between $384 and $511 million.

In late October, KPN sold its Dutch mobile towers to Indonesian group Protelindo for $96 million.

Slim: Benefactor or robber baron?
When the New York Times Co. needed to borrow money in 2009, it turned to the controversial Mexican billionaire that one of its own writers had described as a "robber baron" 18 months before.

The Times Co. accepted a $250 million loan at 14 percent interest from Slim who already owned a 6.9 percent stake in the company.


After Mexico allowed minimal competition, in 2007 the editorial writer for the New York Times said, "When competitors were eventually allowed in, Telmex kept them at bay with some rather creative gambits, like getting a judge to issue an arrest warrant for the top lawyer of a competitor."

The Times Company paid off their loan last August, three and a half years earlier than scheduled.

Beyond his iron grip on telecommunications in 18 countries with 251 million mobile subscribers with coverage for a combined population of 841 million, Slim's Fortune 500 company controls more than 200 companies and has over 200,000 employees.

América Móvil dominates Latin America, and other major carriers like AT&T and Vodafone have failed miserably to get a foothold in the region. AT&T sold its remaining 8.5% stake in Telmex to América Móvil during the acquisition process by América Móvil of the remaining 40% of Telmex it didn't yet own prior to 2010.

América Móvil owns the largest prepaid MVNO in the U.S.
In May, América Móvil announced that its U.S. subsidiary, TracFone Wireless, Inc., had entered into an agreement to acquire 100 percent of the operations of Simple Mobile, Inc., one of T-Mobile's largest mobile virtual network operators (MVNO) in the United States that services over 1 million customers and offers, voice, messaging, data and wireless broadband plans.

TracFone says it is America's largest prepaid wireless provider with over 19.3 million subscribers. An MVNO is a wireless communications services provider that does not own the radio spectrum or wireless network infrastructure over which the company provides services to its customers. One of Walmart's best-selling phones is the TracFone.

Supporters of Slim say he has an eagle eye for a balance sheet bargain and he will pick up a distressed company, and provide financing and management to make it successful, and has done that over the years.

They'll also point out his philanthropy programs. Last September, former President Bill Clinton recognized Slim as one of the world's most important philanthropists.

Critics identify Slim as a monopolist who crossed ethical lines in making his fortune and has not done enough to help developing countries.

Slim's Grupo Carso also has significant holdings in the retail, technology and finance sectors. He has been accused of choking off competition and contributing to elevated unemployment in Mexico.

Some of TV Azteca's seed money might have come from illicit funds
A number of people and organizations have questioned Salinas's business
practices as well.

When he bought two state-owned television stations for $645 million in 1993, Raul Salinas (no relation), the brother of then President Carlos Salinas de Gortari, loaned Ricardo Salinas $29 million from his Swiss bank account to assist in funding the deal.

For weeks in 1996, Ricardo Salinas's stations castigated his competitor, Televisa, for their frequent reporting regarding Raul Salinas's alleged illegal brokering of the TV Azteca transaction. Today, the arch rival broadcasters are business allies against Slim.

Raul Salinas spent 10 years in prison after being found guilty of engineering the murder of his brother-in-law, a prosecutor who was investigating his dubious wealth, but was acquitted in 2005.

In 2008, the government of Switzerland turned over $74 million, out of the $110 million in frozen bank accounts held by Raul Salinas, to the government of Mexico after it was identified that he had stolen it.

On a government salary, Raul Salinas could not document how he had amassed the $29 million provided to Ricardo Salinas as well as maintain an additional $110 million in his bank accounts.

Ricardo Salinas maintains that Raul Salinas was not involved in negotiating the agreement, and he had paid $100 million more than the next bidder for the broadcasting assets.

Like many other transfers from his Swiss accounts, the loan by Raul Salinas to Ricardo Salinas was backed by no legal papers.

"No documents were needed because the word of Ricardo Salinas was good enough for me," Raul Salinas said in his police testimony.

In 2005, the U.S. Securities and Exchange Commission charged TV Azteca and its Chairman, Salinas, with engaging in "an elaborate scheme" to conceal Salinas's part in selling millions of dollars of stock in their company without disclosing it to the market.

Salinas was alleged to personally profit by $109 million from the illegal activity.

Without admitting or denying the allegations, Salinas agreed to a final settlement by paying a fine in excess of $8.5 million.

ATC and América Móvil target Colombia
When the Colombian government announced that América Móvil's Claro, would be partially barred from participating in their 4G license auction earlier this month, it was due to concerns about Slim being able to obtain an even greater market share than Claro's current 61%, what American regulators would label as a monopoly.


Lawmakers are studying a proposal to limit market share in Colombia's mobile-phone industry to 30 percent.

Slim said the action will hurt the country's reputation as a supporter of free markets and competition.

"In terms of a monopoly, in any economic activity in which two or three firms are competing, one has to be bigger than the other. The fact that one [company] has a bigger share is a result of customer preference," Slim said in a report in The Wall Street Journal.

ATC announced last year that it had struck an agreement with Millicom International Cellular and its subsidiary, Colombia Movil, to buy up to 2,126 towers, raising their tower count in Colombia today to more than 2,800 structures.

Other countries where ATC has a strong presence and Claro is a dominant carrier are Brazil, Chile, and Peru.

América Móvil expects to invest $10 billion next year in the continued expansion of its network, according to Chief Executive Daniel Hajj. Following Colombia's decision, it is not known how much the Claro brand will invest in the country.

Brazil proves to be more competitive
Brazil, one of the most important and fastest growing markets in Latin America, according to Hess, is also the most competitive where the first and third major carriers are within a market share difference of 5 percent.

Brazil's Carrier Market Share

Operator

August 2012
Vivo
29.66%
TIM
26.91%
Claro
24.51%
Oi
18.60%
CTBC
0.29%
Sercomtel
0.03%
Aeiou
0.01%
"Trying to double our size in the next three to five years is one of our primary strategic goals," Hess said in an interview last year.

ATC currently has 4,311 owned towers in Brazil, according to their Q3 2012 financial report which identified that the company's international rental and management segment revenue increased 22 percent to $217.2 million.


Whereas ATC is quick to issue a press release on their major national and international transactions, it is notable that they have not identified the last few entities they've bought towers from in Brazil. Their initial towers were purchased from U.S.-based NII Holdings, Inc., the holding company for Nextel Communications.

On March 1, 2011, ATC acquired a company that owned 666 communications sites in Brazil for $585.4 million. They said they were buying the towers from "an independent tower company."


Last quarter, they announced that they had acquired 192 more towers in Brazil, but did not identify the seller.

The largest independent tower company in Brazil is Grupo TorreSur, formed in 2010 by its Chairman and CEO, Jim Eisenstein.

Eisenstein co-founded American Tower in 2005 and later served as its Chief Development Officer.

He is also an operating partner at Point Judith Capital. U.S.-based CTI Towers announced yesterday that Eisenstein had joined the company's board of directors. Comcast Ventures established the company in 2011.

Grupo TorreSur's first transaction in Brazil, according to its web site, was the purchase of 1,550 towers from Telefonica. Its current count is approximately
3,000 towers. The company is backed by Providence Equity. Providence holds a stake in India's Indus which has the largest tower portfolio in the world, more than 100,000 structures.

In its second quarter financial filing, ATC said it had an agreement with Telefonica's Vivo to purchase 1,500 towers for $278 million.

Unconfirmed news reports this week state that NII Holdings has received approval from the Brazilian government to buy privately owned Unicel, trading under the banner Aeiou.

Vivo, TIM, Claro and Oi cannot bid for Unicel as they each hold the maximum 80MHz of spectrum permitted under local law; however, Nextel owns just 20MHz.

It is estimated by Teleco that Aeiou has less than a 1 percent market share.

Mexico doesn't have a monopoly on scandals
Although some critics will say they are affronted by Slim's and Salinas's business practices, others will indentify that Mexico doesn't have exclusivity on telecom scandals.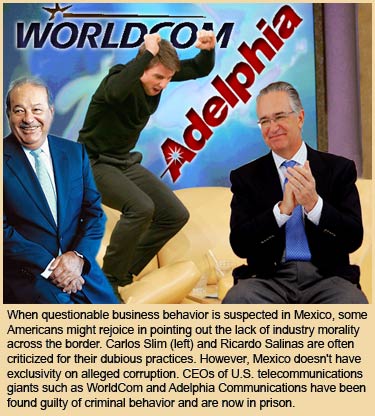 In 2005, Bernard Ebbers was found guilty and convicted of fraud, conspiracy and filing false documents with regulators — all related to the $11 billion in bogus revenue and profits he created at WorldCom, the telecommunications company he founded in the U.S.

When WorldCom went bankrupt and began to silently morph into MCI, one of Ebbers' previous acquisitions, Slim , thanks to Ebbers' corruption, was able to pocket $900 million, according to The Wall Street Journal, after amassing a 13 percent stake in MCI and then later selling it to Verizon Communications Inc.

Also in 2005, the founders of Adelphia Communications were charged with securities violations and John Rigas and Timothy Rigas were found guilty.

Federal prosecutors proved that the Rigases used complicated cash-management systems to spread money around to various family-owned entities and as a cover for stealing $100 million for themselves. Whereas Ebbers tried to hide inconvenient financial facts, hoping that WorldCom's stock would rise, the Rigases illegally looted the company.

John Rigas was sentenced to 15 years in jail; Timothy received 20 years. Ebbers was sentenced to 25 years in prison.