Golden, Colorado-based Centerline Solutions, a full turnkey wireless company, can easily design, build, modify and maintain wireless infrastructure, even if there are ambitious deadlines. But recently their CEO asked his 300-plus employees to find a way to keep hundreds of VIPs happy with a national project that had a drop dead timeline of one day.
They did. And they were rewarded with whoops, cheers and some tears from 330 elementary school-age children who took possession of the first bicycle they ever owned.
Centerline had teamed up with Wish for Wheels, a non-profit organization that provides new bikes to deserving kids who might not be able to ever have a bike otherwise.
Nearly all of Centerline's employees built and delivered bikes and helmets to kids in a multi-state, all-day volunteering event at their seven offices in Colorado, Arizona, Hawaii, New York, Oregon and Washington.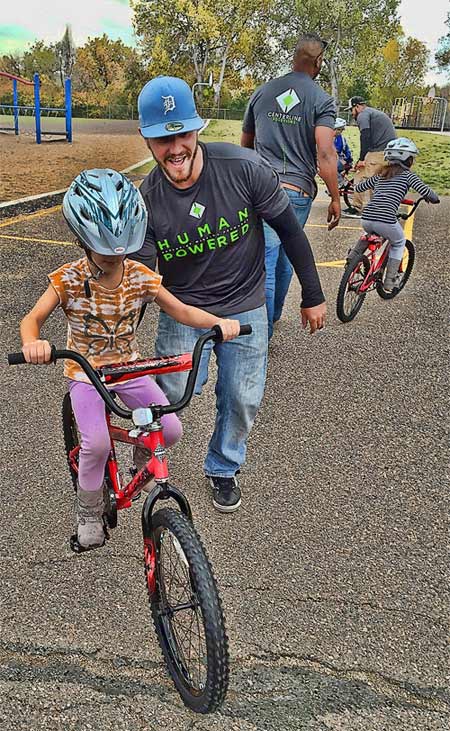 This was the largest volunteering/charitable effort in Centerline's history since its founding in 2000, and one of the largest that the Wish for Wheels organization has ever done with a corporate partner.
Many Centerline employees, who delivered the bikes and chaperoned the youngsters' first ride, were moved by irradiating smiles of the children, some who were determined not to weep from happiness.
Human powered initiative gives back to the community
"It's a privilege to partner with Wish for Wheels on this event, and I'm very proud that our team worked so hard to make the dreams of these great kids come true," said Centerline CEO Ben Little.
"I remember how big a moment it was in my life when I got my first bike. That's a moment that every child should have, and Wish for Wheels is doing wonderful work to make that a reality for more children. This is the first of many company-wide volunteering efforts that Centerline Solutions will organize as part of our Human Powered initiative, which taps into the talents and passion of our employees to give back to the communities we live and work within," said Little, who also serves on the Board of Directors of the National Association of Tower Erectors, and is on the advisory committee of the Tower Family Foundation.
"This is one of the largest builds that Wish for Wheels has ever done with a corporate partner, and I want to say thank you to all the Centerline employees who participated," said Brad Appel, CEO of the organization that he founded in 2004.
"Ben is right about the impact this has on children. Getting a new bike is a milestone in children's lives, giving them the chance to spend more time outdoors, have more experiences with their friends and start building a lifetime of healthy habits. Every child deserves that experience, and it is rewarding that we were able to make so many kids across so many states very happy," said Appel.
Recipients of the bicycles included:
Phoenix, Ariz. – The Boys & Girls Clubs of Metro Phoenix
Golden, Colo./Metro Denver – Pleasant View Elementary and Welchester Elementary Schools
Metro Honolulu, Hawaii – The Boys & Girls Club of Hawaii
Rochester, New York – The YMCA of Rochester-Carlson
Kirkland, Wash./Metro Seattle – The Boys & Girls Club of Kirkland
Olympia, Wash. – Family Education & Support Services of Olympia
Vancouver, Wash./Metro Portland, Ore. — The Boys & Girls Club of Vancouver
Centerline was recently named to Inc.'s 5000 List, and was ranked 15th in Inc.'s ranking of Colorado companies with revenue of at least $10 million.
In August, the company expanded its Hawaii office with the acquisition of IDC Joint Venture, LLC. It was the third acquisition for Centerline this year.
For further information about Centerline Solutions, click here.