UPDATE: A spokesperson for Crown Castle International, the owner of a self-supporting tower that caught fire on Saturday when a number of wayward lanterns set some transmission lines on fire during a festival at the Carolina Speedway, said that the extent of the damage is still unknown.
Spencer Humiston, the Lantern Fest event director, said that his and Crown Castle's insurance companies were working together to identify what will be required to bring the cell site back into operation.
Humiston said that Lantern Fest has held five events in the past year following the company's formation and had no incidents that damaged any property.
– – – – – – – – – –

Whereas careless welders have on occasion ignited a cell phone tower owned by Crown Castle International, it took a village last weekend to torch their multi-tenant self-supporting tower in Gastonia, N.C. at a Saturday lantern festival at the Carolina Speedway.
Thousands of participants paid $30 or more for a fun filled evening of music, dancing, s'mores and an unexpected pyrotechnic show when lanterns intended to light up the sky collided with a nearby 250-foot cell tower, setting the transmission lines on fire.
Although a volunteer fire department was on hand for the event in case an errant lantern started a grass fire, their ladder truck couldn't reach the top of the tower where the fire was and there were no nearby fire hydrants.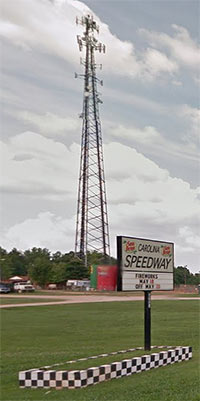 After neighboring departments were called in, it took 20 firefighters and 6,000 gallons of water to extinguish the fire.
The company that sponsored the event, Lantern Fest, did not respond to a request from Wireless Estimator for additional information.
According to the promoter's website, "These lanterns are 100% biodegradable. Not to mention after each release we have professional 'Lantern Chasers' that will make those armored truck driving meteorologists look like your local news' weatherman. These lantern experts collect 90% of the lanterns after the event."
It's doubtful that they'll retrieve the ones ensnared by the self-supporting tower.
Lantern Fest's next scheduled event is at the El Dorado State Park in Wichita, Kan. on May 23, 2015.
Crown Castle can breathe easily since they don't own a tower near where the lanterns will be released, according to the FCC's antenna structure registration database.