Crown Castle International's appetite for a fiber rich footprint in major cities across America expanded last week with the acquisition of Sunesys for approximately $1 billion. The wholly owned subsidiary of Quanta Services, Inc. owns or has rights to nearly 10,000 miles of fiber in major metropolitan markets across the U.S. such as Los Angeles, Philadelphia, Chicago, Atlanta, Silicon Valley, and north New Jersey.
Approximately 60% of Sunesys' fiber miles are located in the top 10 basic trading areas.
The Sunesys acquisition will strengthen Crown Castle's leading position in small cell networks by more than doubling the company's fiber footprint available for small cell deployments.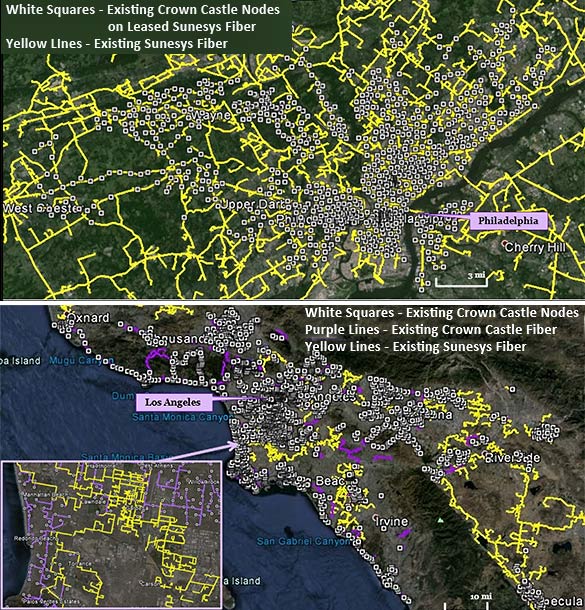 Whereas American Tower Corporation holds the bragging rights as being the nation's largest tower owner, by a couple hundred structures, Crown Castle is clearly the leader in its small cells business and fiber footprints.
In 2012, Crown Castle invested another $1 billion when it acquired distributed antenna systems provider NextG Networks, Inc., kick starting their fiber ownership with approximately 4,500 miles.
Crown Castle currently owns or has rights to approximately 7,000 miles of fiber supporting approximately 14,000 nodes, which contribute 7% to each of Crown Castle's site rental revenues and site rental gross margin, a percentage that CFO Jay Brown shared for the first time during an April 23, 2015 earnings call.
Brown and CEO W. Benjamin Moreland appeared to be setting the stage for the Sunesys announcement.
"Three years ago when we acquired NextG Networks, the then leader in the field of small cells or distributed antenna system deployment, we had a thesis that this architecture of fiber-fed deployment will play an important role in adding capacity to networks of the future as carriers seek to monetize the data opportunity," Moreland told analysts.
Handsome margins on second fiber tenant
"With the colocation of the second tenant on the initial fiber investment, we typically see incremental margins of 80% to 90%, bringing IRRs above the 20% level. We believe investing in small cell builds upon our core competence — builds on our core competency as the leading provider of US wireless infrastructure, leveraging our existing relationships with the wireless carriers," said Brown.
"We are thrilled with the agreement we have reached to acquire Sunesys," said Moreland, "We pursued this transaction based on our view that the unique location of Sunesys' high-quality fiber assets will help to accelerate and extend the runway of growth in our small cell deployments. Small cells are playing an increasingly critical role as wireless carriers pursue fiber-fed deployments to add capacity and density to their networks to accommodate the significant growth in mobile data."
"We're seeing capacity needs in so many urban and suburban areas that you can quickly start to figure out that we're talking about a universe here, I think, of hundreds of thousands of nodes over time," said Moreland.
In the fiber space a recurring question is whether it's better to build or to buy?
Crown Castle believes it's better to buy, if the fiber footprint fits like a glove such as in the Philadelphia market where Sunesys' fiber supports almost all of the company's nodes.
They also make the case that Sunesys' fiber complements their Crown Castle-owned fiber on the West coast of California.

Was Crown Castle's $1 billion offer a good deal?
Trying to use multiples and napkin analyses to assess whether a fiber deal was in line with other known purchases is as difficult to quantify as trying to measure the sale of towers.
Last week, Lightower acquired Fiber Networks for $1.9 billion, adding 12,000 route miles. The combined company will own and operate a high-performance, fiber-based network throughout the Northeast, Mid-Atlantic and Midwest. The company will offer customers over 30,000 route miles of fiber network providing access to nearly 5,000 wireless towers and almost 13,000 on-net service locations.
Although on the surface it appears that Crown Castle's $100,000 per route mile was a far better deal than the $155,000 per route mile paid by Lightower, it doesn't mean that the Fiber Networks sale was an expensive transaction.
Location densities, the portion of business attributable to Lit fiber, markets covered, and a number of other factors must be considered.
However, on the surface, it appears that Crown Castle didn't overpay, according to Brown.
"Typically, when we're building new anchor builds, we're spending about $100,000 per node. The majority of that cost is associated with building the fiber, to build the system, where those nodes are going to go," Brown said.