American Tower Corporation stood behind a New Jersey construction manager who used a creative approach to comply with an AT&T program manager's directive on a new monopole cell site's location, while suffering with hurt feelings, and was awarded $132 million by a Sloatsburg, Tex. jury today.
In a statement issued by the Boston-based tower owner following the verdict, the company said, "We were certainly hesitant to take our largest customer to court, but we felt that it was important to show that all employees are important to us, even if they have only been with us for less than a week and have little or no experience."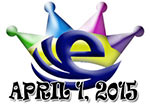 American Tower had filed the lawsuit against AT&T on April 1, 2014 after their newly hired project manager, Thomas Wingfield Watson, received an incorrect set of construction drawings from AT&T that showed the foundation for a Monsey monopole was abutting Union Pacific Railroad tracks.
In a cross complaint, AT&T said that Watson's "wild mouse" method for resolving an obvious error was "an unfathomable fix for following construction drawings that typically have an industry-wide 76% error rate," and that American Tower should move the structure back to its intended location that complies with NEPA and Religious Freedom and Hurt Feelings Restoration Acts.
Watson, in emotional court testimony that saw some jurors openly crying and clutching their tear-stained notepads, said he contacted his AT&T program manager and explained the problem, "But he was callous, vulgar and rude, and I vividly recall him shouting – and there's no need for that in construction – to just 'Get 'er Done' ".
The jury found that Watson's creative design of rerouting the tracks around the concrete foundation was an acceptable alternative to "Get 'er done" as long as there were adequate closeout photographs.
"More importantly," said jury foreman Mathew Loy, "We hope this sends a loud and clear message that it's okay for land surveyors and architects to royally $*#! up, but there is no need to yell at anyone on a construction site."
During the six week trial, two jurors had been discharged after admitting that they looked up the definition of a "greenfield" site and viewed at least 37 photographs depicting their aftermaths, and disclosed that they found them to be morally repugnant.
Watson didn't receive any of the $132 million, but in order to rebuild his life after the trauma of the trial, he was given the option to work from home on any day that he could document having worked 16 hours in the field.