Velocitel, Inc., a wireless network services company, has acquired the assets of FDH, an engineering and construction company.
"This acquisition expands the footprint of Velocitel into new areas that are part of our growth strategy. FDH is one of the most respected engineering companies in the field, with a deep breadth of knowledge in civil and water, geotechnical, and structural engineering. Their capabilities are a natural complement to our existing suite of engineering and construction services," said Kevin G. Hostetler, CEO of Velocitel, who came on board with Velocitel in November.
"The synergies between FDH and Ve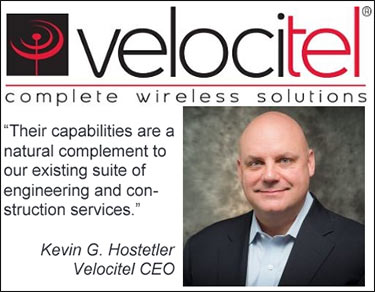 locitel make this combination an easy decision. Collectively, the hybrid company will be able to provide a wide variety of benchmark setting services to support the critical backbone of our country's infrastructure: from heavy civil to wireless communications. This is a win-win transaction that marries some of the best and the brightest in the fields of engineering and construction," says Chris Murphy, President and CEO of FDH.
The newly combined company will be known as FDH Velocitel and becomes one of the largest wireless engineering services companies in the industry. FDH Velocitel will be headquartered in Northbrook, Ill.
Velocitel is a $200M wireless network services company delivering a complete suite of professional services to acquire, design, engineer, implement, upgrade and maintain wireless infrastructure sites.  The company has designed, constructed and deployed over 50,000 wireless sites since 1987.
Velocitel has 500 employees nationwide.  The company is an industry leader in safety with extensive training systems in place, and a member of the National Association of Tower Erectors Safety Committee.
The company has acquired other complementary companies including SiteSafe, PS&W Engineering, Doty Moore Tower Services and Stainless LLC.  Along with its corporate office in Northbrook it has offices in Calif., Ga., Minn., N.Y., N.C., Ore., Pa., Tex. and Va
FDH is headquartered in Raleigh, N.C. with offices in Mo., Calif., La.,  OH, and Ariz.