A Kentucky tower climber who had been in an induced coma for the past 10 days had additional surgery yesterday, and this morning for the first time was able to talk, but he is unable to remember his traumatic fall off of an Ohio tower that required him to be airlifted to St. Elizabeth Hospital in Youngstown to be treated for multiple leg fractures, according to associates knowledgeable of the incident.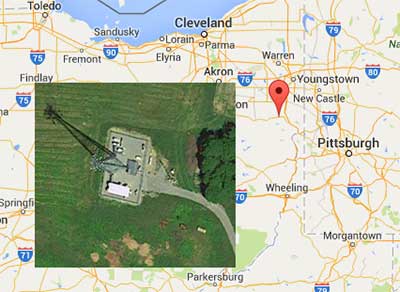 However, two co-workers, one his son-in-law, have informed authorities that Taylor J. McDonald, 32, of Sturgis, Ky., had been on his way down from rigging a Crown Castle International 250-foot self-supporting tower when he reportedly slipped from a step bolt at about the 50-foot level and his cable grab did not restrain him on the climbing cable and he fell to the base of the tower still connected to the wire rope.
According to a representative of Crown Castle, McDonald was employed by Allstate Tower, Inc., a tower manufacturer and contractor located in Henderson, Ky., that was under contract to reinforce the tower located in Center Township on Freeman Rd. just west of Lisbon.
Following McDonald's fall on Feb. 7, 2015 at approximately 2:30 p.m., his co-workers immediately ran to assist him and disconnected his carabineer from his front D-ring and laid him on the ground as they awaited emergency workers.
Some personnel at the scene said that the DBI cable grab appeared to have been attached to the wire rope correctly.
A representative from Crown Castle, Capital Safety and Allstate Tower were on site following the incident with an inspector from the Occupational Safety & Health Administration to assist in the investigation. They removed the lower 50 feet of the climbing system, which, according to one observer, appeared to have fresh shiny gouges that might indicate the possibility that the cable grab was unsuccessfully attempting stop McDonald's descent.
OSHA will be identifying whether the fall was caused by improper usage of the safety cable grab, or whether the cable grab or the wire rope was defective or not compatible.
There appeared to be no identification markings on the cable system to indicate who the manufacturer was, explained an individual familiar with the investigation.
McDonald had been using his company-supplied cable grab. A co-worker said that he had seen McDonald take a break and was using the cable grab to take a stretch before completing his descent. A representative of Allstate Tower said the cable grab was fairly new and that investigation photographs indicate that it was properly maintained.
He said that all of their DBI Sala cable grabs would be taken out of service until OSHA provides their findings as to the cause of the accident.