It is not known why 28-year-old Stephanie Gurney of San Angelo, Tex. was on or fell from an SBA Communications 500-foot tower in a rural area 10 miles east of Eden on Saturday at approximately 11:15 a.m., but it is has been established,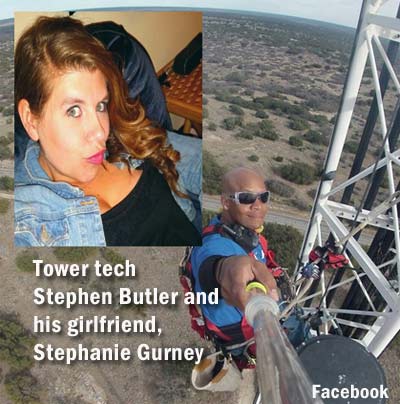 that her boyfriend, Stephen Butler, who met Stephanie in September of 2014, was a tower technician for an Abilene tower contractor and started climbing in 2012.
The young woman died after falling from approximately 40', according to the Concho County Sheriff. Both the Sheriff's Office and OSHA are investigating the fatality.
A rash of rumors on Facebook and tower blogs said that Gurney, whose occupation on her Facebook site said she was a housekeeper at a Super 8 motel, said she was being evaluated by Butler to see if she might be a viable candidate for climbing or was working for a tower company, have not been substantiated by any authority at this time, according to SBA Vice President, Risk Management David Sams.
Butler did not respond to a request for additional information.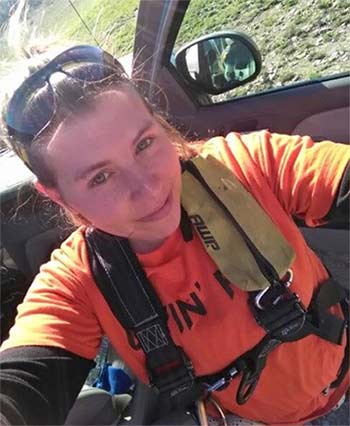 "We offer our sincere condolences to Stephanie Gurney's family and her many friends. We are aware of an accident on that site and that authorities and OSHA are investigating, as we will also be doing to assess what happened. We'll be working with every agency to assist in their investigations. To our knowledge, there was no activity to be scheduled or occurring at that time at that site on Saturday," said Sams.
A photograph of Gurney in climbing gear, at right, appeared on Facebook.
If she was working for a wireless installation contractor at the time of her death she will be the first fatality in 2015 and the second known woman to have died after falling from a communications tower.
On Oct. 29, 2000, 39-year-old Los Lunas, N.M. resident Carla Valencia was working on a tower about 20 miles from Pecos, Tex. when she fell with a co-worker almost 500 feet as they were being hoisted to the top of KKYL-FM's tower to repair a power divider and six bays that were burned out, according to an AP report.
The article identified that the workers were employed by Tower Network Services, but OSHA's incident report identifies Valencia's employer as Jesse Craig Painting, Inc.
Valencia and Grant Rutledge were being hoisted up the tower by a pulley connected to the axle of a small pickup truck, and operated by an unnamed foreman, according to the Ward County Sheriff's Department.
The two were connected to the rope by one harness holding both when the rope slipped and both fell. The foreman, suffered severe rope burns to his hands while trying to hold onto the rope.
The company was cited with two Serious, two Willful and one Other violations with fines totaling $34,000.
Wireless Estimator will provide additional details as they become available.