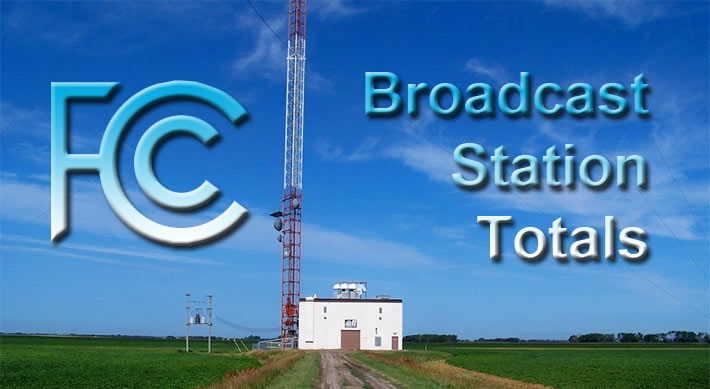 According to the FCC's latest quarterly report, ending June 30, 2016, there were four fewer AM broadcast stations from the previous quarter. Since June 30, 2015, the total decline is 22. Commercial FM stations increased from year to year by 48, increasing by one in the past quarter.
Commercial TV stations saw mixed results for the quarter. One UHF station was added, but there was a loss of three VHF stations.
Total broadcast stations were: Q1 2016 – 31,445; Q2 2016 – 31,816.
Total Broadcast Stations as of June 30, 2016

AM STATIONS
4676
FM COMMERCIAL
6714
FM EDUCATIONAL
4099
TOTAL
 
15,489
UHF COMMERCIAL TV
1032
VHF COMMERCIAL TV
353
UHF EDUCATIONAL TV
289
VHF EDUCATIONAL TV
106
TOTAL
 
1,780
CLASS A UHF STATIONS
402
CLASS A VHF STATIONS
16
TOTAL
 
418
FM TRANSLATORS & BOOSTERS
6816
UHF TRANSLATORS
2791
VHF TRANSLATORS
867
TOTAL
 
10,474
UHF LOW POWER TV
1702
VHF LOW POWER TV
388
TOTAL
 
2,090
LOW POWER FM
1565
1,565
TOTAL BROADCAST STATIONS
 
 
31,816
Total Broadcast Stations as of June 30, 2015

AM STATIONS
4698
FM COMMERCIAL
6666
FM EDUCATIONAL
4091
TOTAL
 
15,455
UHF COMMERCIAL TV
1034
VHF COMMERCIAL TV
357

UHF EDUCATIONAL TV
288
VHF EDUCATIONAL TV
106
TOTAL
 
1,785
CLASS A UHF STATIONS
395
CLASS A VHF STATIONS
27
TOTAL
 
422
FM TRANSLATORS & BOOSTERS
6366
UHF TRANSLATORS
2853
VHF TRANSLATORS
857
TOTAL
 
10,077
UHF LOW POWER TV
1554
VHF LOW POWER TV
366
TOTAL
 
1,920
LOW POWER FM
1149
1,149
TOTAL BROADCAST STATIONS
 
 
30,808