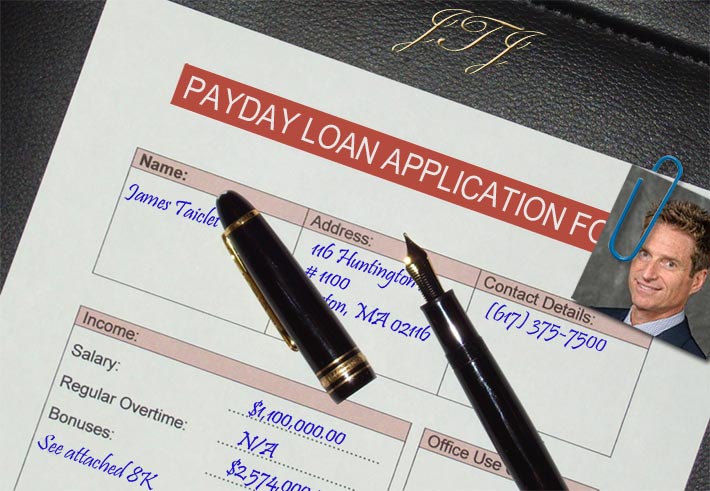 James D. Taiclet, Jr., Chairman of the Board and CEO of American Tower Corp. (ATC), hasn't received a raise again with his $1.1 million salary for 2016, but it is likely he is not complaining since his compensation committee takes care of him with handsome perks – and perhaps, rightfully so.
Although his salary hasn't increased in at least three years, his bonuses and stock options have, and in 2014, the latest compensation information available, Taiclet made $12,704,773 in total compensation, $484,000 more than he received in 2013.
Of this total, $1,100,000 was received as a salary, $2,574,000 was received as a bonus, $4,500,007 was received in stock options, $4,500,051 was awarded as stock and $30,715 came from other types of compensation. His 2015 total compensation should be available next month in a filing.
ATC filed Taiclet's 2016 salary and bonus plan last Thursday with the U.S. Securities and Exchange Commission, identifying that in addition to his $21,154 weekly salary, he will be eligible for a $1,430,000 bonus, 130% of his salary, but if he exceeds his established goals, that could balloon to $2,200,000, according to the 8K filing.
It's likely that Taiclet had no problem in achieving his target expectations for 2015.
During a Feb. 26, 2016 conference call with analysts, the day that ATC's compensation committee agreed upon Taiclet's salary, bonuses and benefits, Taiclet said that three years ago he had laid out an aspiration goal to again double the size and performance of ATC by 2017.
"As a result, on a currency neutral basis, our outlook for 2016 implies that we will have more than doubled our AFFO per share by 12/31, which would be a year ahead of schedule," Taiclet said.
The next highest compensated ATC executive for 2016 is Thomas A. Bartlett, Executive Vice President and CFO whose base salary is $750,000 with a potential cash bonus of $675,000.
On Glassdoor,  83% of 88 respondents said they approve of Taiclet.
According to 10 attorneys employed by ATC that posted on the employment website, the average salary was $63,710. Edmund DiSanto, ATC's General Counsel, Executive Vice President and CAO, will receive a $600,000 base salary in 2016 and a target bonus between $540,000 and $1,200,000.
Two other highly compensated executives include Steven Marshall, Executive Vice Present, International Operations and President Latin American and EMEA, and Steven Marshall, Executive Vice President and President U.S. Tower Division.
Both men will earn $650,000 this year and be eligible for a bonus between $585,000 and $1,300,000.
Although Amit Sharma, Executive Vice President and President, Asia, is the sixth member of the company's executive leadership team, his salary and other compensation was not identified in the SEC filing.