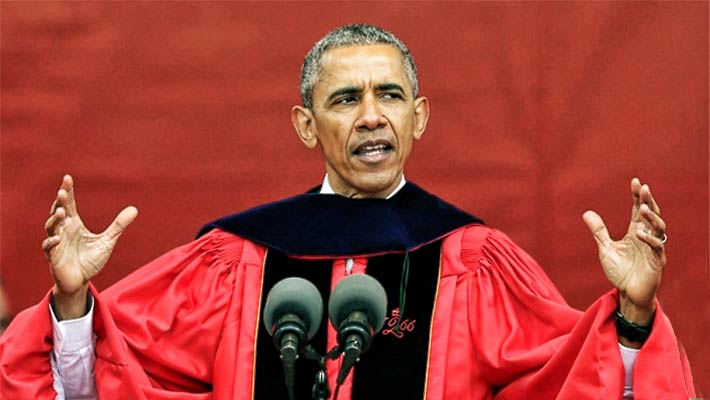 Fastback Networks today announced that its Intelligent Backhaul Radio (IBR) was deployed to provide the temporary wireless backhaul vital to high capacity mobile network services during President Obama's commencement address at Rutgers University, held May 15, 2016 at High Point Solutions Stadium, Piscataway, N.J.
Deployed by the wireless infrastructure services company AMP Communications to carry Tier 1 operator traffic, the Fastback IBR delivered 100% up-time, averaging 880 Mbps throughput performance to meet the high level of demand for mobile service for the 52,000 attendees to President Obama's commencement address during the Rutgers University 250th Anniversary Commencement and Convocation.
AMP Communications was engaged by a Tier 1 operator to support the deployment and solve backhaul challenges that could hamper service. AMP deployed Fastback Networks IBR backhaul utilizing a Cell [Site] on Wheels (CoW) as a temporary tower to provide high-quality backhaul connectivity for the stadium Distributed Antenna System (DAS), which in turn supported the huge surge in mobile traffic that was expected for the event.
Rapid installation, versatility and ease of use options for siting the CoW near the stadium were limited to a single available location. The AMP team leveraged the power and flexibility of the IBR to offer multiple alternatives for donor sites serving this single available end point over distances of 700 meters to 1 kilometer.
A single IBR link was selected to sustain high performance in the high interference conditions common to college campuses and temporary service at large events. The IBR also managed all VLANS for the deployment, ensuring proper routing and capacity delivery. Utilizing the IBR Predict network planning tool, the installation team was able to quickly determine the optimal donor site and complete the entire installation within 5 hours.
"The IBR enables rapid installation of connectivity, as well as the flexibility and versatility needed to work around common site constraints with a novel approach to achieving high capacity service," said Robert Post, Co-founder of Oakland, N.J.-based AMP Communications. "Across many temporary deployments including New Year's Eve Times Square, and the Pope Francis New York City visit, we have found the IBR ideally suited to providing economical high-capacity connectivity services across a range of applications – even for in-building networks, which was definitely an 'a-ha' moment for this deployment."
"Working together, AMP and Fastback provide economical and practical solutions for temporary and permanent mobile infrastructure," said Kevin Duffy, CEO & Co-founder, Fastback Networks. "AMP's expertise in wireless infrastructure solutions coupled with Fastback's innovative technology enables service providers to quickly scale wireless capacity and transform the economics of delivering mobile service anywhere."