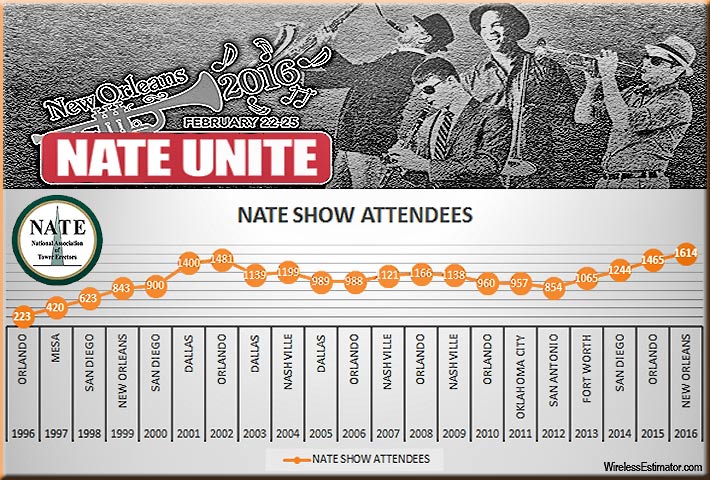 Record-breaking numbers of 1,614 attendees and 137 exhibitors in New Orleans last week during the National Association of Tower Erectors (NATE) annual conference gave credence to the impact NATE has upon providing excellent educational sessions – from safety to business development – and the show's ability to network the industry with member companies and their suppliers.
A number of event photos can be viewed below.
The 21st annual show's attendance eclipsed the association's 2002 previous record of 1,481 attendees, where PCS opportunities were almost endless and companies were trying to address how 9/11 would affect their future growth.
The following years were either stagnant or dropped considerably, according to attendance records compiled by Wireless Estimator.
However, beginning in 2012, when attendance hit a 13-year low, NATE saw a dramatic improvement in not only attendance at its annual shows, but membership totals as well – even during a slowing national LTE build program.
NATE UNITE 2016 saw considerable media interest from correspondents attending from AGL Media Group, Wireless Estimator, RCR Wireless News and The Wall Street Journal.
"NATE UNITE 2016 was a resounding success due to the tremendous sponsor and exhibitor support and the caliber of the educational session speakers and topics," stated NATE Events Coordinator Shari Wirkus. "We are already in the planning stages for NATE UNITE 2017 and anticipate that our annual conference and trade show will continue to grow," Wirkus said.
"The record-setting accomplishments of NATE UNITE 2016 are a testament to NATE's ability to evolve along with the wireless industry," stated Executive Director Todd Schlekeway. "NATE members will continue to play a vital role building out both current networks and the future infrastructure that will be necessary to enable emerging technologies such as the Internet of Things and 5G," said Schlekeway.