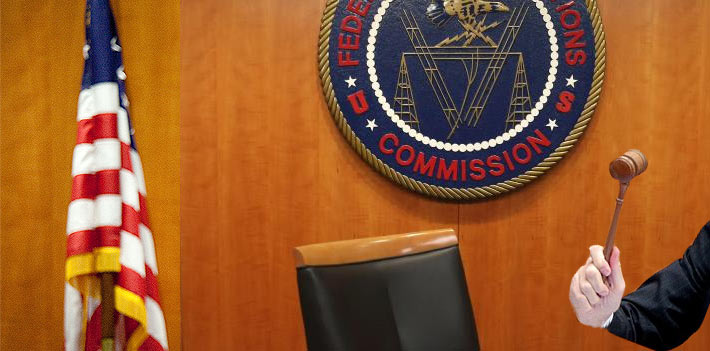 An unexpectedly high clearing cost of $86,422,558,704 was reached in the first reverse stage of the TV spectrum incentive auction that has concluded, according to the Federal Communications Commission's Incentive Auction Dashboard.
Analysts were expecting between $35 billion to $60 billion.
The next stage is the forward auction that will be for the wireless industry bidders to cover that amount, plus $1.75 billion to cover the broadcaster relocation fund as well as the administrative costs of holding the auction. It is expected to start at the end of this month.
Those bidders will participate in the forward auction, which likely will start toward the end of July.
If buyers offer less than $86 billion, the FCC will cut the amount of spectrum it acquires. Many stations would then have to decide whether to lower their prices, or continue transmitting over-the-air signals.
"Today, bidding concluded in the reverse auction, establishing the cost for clearing 126 MHz in the TV band for wireless use," said Gary Epstein, chair of the FCC's Incentive Auction Task Force, in a statement. "Strong participation from broadcast stations made this initial clearing target possible. Now the action shifts to the forward auction, which will give wireless bidders the opportunity to compete for this beachfront spectrum to meet America's growing mobile data needs."
Although the auction may still end as early as August, the surprisingly high clearing cost may push the process back months, possibly into 2017, slowing down carriers putting to use the low-band spectrum and the resulting industry work to do so.
CTIA CEO Meredith Attwell Baker said, "We are pleased to see the 600 MHz incentive auction move closer to delivering spectrum for wireless providers so they can meet Americans' mobile-first lifestyles. With mobile data usage expected to rise six-fold by 2020, we will need to use all tools, including an effective incentive auction process and high band spectrum, to meet consumer demand and continue our wireless leadership."
The National Association of Broadcasters Executive Vice President of Communications Dennis Wharton released the following statement regarding the conclusion of the first reverse auction:
"Broadcasters have done our part; now it's up to the wireless industry to demonstrate the demand is there for low-band TV spectrum."
Other FCC Releases and Actions (June 29, 2016)
Wireline Competition Bureau Announces Implementation of the Budget Control Mechanism for Rate-of-Return Carriers
Released Date: 06/29/2016
Description:
Documents:
Word : DA-16-736A1.docx
PDF : DA-16-736A1.pdf
Text : DA-16-736A1.txt
Wireless Telecommunications Bureau Market Based Licenses Termination Pending Public Notice
Released Date: 06/29/2016
Description:
Documents:
PDF : DOC-340051A1.pdf
Text : DOC-340051A1.txt
Satellite Communications Services
Released Date: 06/29/2016
Description: Re: Satellite Radio Applications Accepted for Filing
Documents:
PDF : DOC-340070A1.pdf
Text : DOC-340070A1.txt
Satellite Communications Services Information
Released Date: 06/29/2016
Description: re: Actions Taken
Documents:
PDF : DOC-340071A1.pdf
Text : DOC-340071A1.txt
XO Holdings and Verizon Communications Inc. Consolidated Applications for Consent to Transfer Control of Domestic and International Authorizations Pursuant to Section 214 of the Communications Act (WC Docket 16-70)
Released Date: 06/29/2016
Description: Information and Document Request sent to Applicants
Documents:
PDF : DOC-340072A1.pdf
Text : DOC-340072A1.txt
Ex Parte Presentations And Post-Reply Comment Period Filing In Permit-But-Disclosure Proceedings Received on 6/17/2016
Released Date: 06/29/2016
Description:
Documents:
PDF : DOC-340066A1.pdf
Text : DOC-340066A1.txt
Wireless Telecommunications Bureau Assignment of License Authorization Applications, Transfer of Control of Licensee Applications, De Facto Transfer Lease Applications and Spectrum Manager Lease Notifications, Designated Entity Reportable Eligibility
Released Date: 06/29/2016
Description: EVENT APPLICATIONS, AND DESIGNATED ENTITY ANNUAL REPORTS ACTION
Documents:
PDF : DOC-340062A1.pdf
Text : DOC-340062A1.txt
Public Safety and Homeland Security Bureau Assignment of License authorization Applications, Transfer of Control of Licensee Applications, De Facto Transfer Lease Applications and Spectrum Manager Lease Notifications, Designated Entity Reportable
Released Date: 06/29/2016
Description: ELIGIBILITY EVENT APPLICATIONS, AND DESIGNATED ENTITY ANNUAL REPORTS ACTION
Documents:
PDF : DOC-340061A1.pdf
Text : DOC-340061A1.txt
Wireless Telecommunications Bureau Assignment of License Authorization Applications, Transfer of Control of Licensee Applications, and De Facto Transfer Lease Applications, and Designated Entity Reportable Eligibility Event Applications Accepted for
Released Date: 06/29/2016
Description: FILING
Documents:
PDF : DOC-340060A1.pdf
Text : DOC-340060A1.txt
Public Safety and Homeland Security Bureau Assignment of License Authorization Applications, Transfer of Control of Licensee Applications, and De Facto Transfer Lease Applications, and Designated Entity Reportable Eligibility Event Applications Accepted
Released Date: 06/29/2016
Description: FOR FILING
Documents:
PDF : DOC-340059A1.pdf
Text : DOC-340059A1.txt
Cable Television Relay Service (CARS) Applications Re: Applications Accepted for Filing
Released Date: 06/29/2016
Description:
Documents:
PDF : DOC-340055A1.pdf
Text : DOC-340055A1.txt
Public Safety and Homeland Security Bureau Site Based Licenses Termination Pending Public Notice
Released Date: 06/29/2016
Description:
Documents:
PDF : DOC-340054A1.pdf
Text : DOC-340054A1.txt
Public Safety and Homeland Security Bureau Market Based Licenses Termination Pending Public Notice
Released Date: 06/29/2016
Description:
Documents:
PDF : DOC-340053A1.pdf
Text : DOC-340053A1.txt
Wireless Telecommunications Bureau Site Based Licenses Termination Pending Public Notice
Released Date: 06/29/2016
Description:
Documents:
PDF : DOC-340052A1.pdf
Text : DOC-340052A1.txt
Public Safety and Homeland Security Bureau Site-By-Site Accepted for Filing
Released Date: 06/29/2016
Description:
Documents:
PDF : DOC-340048A1.pdf
Text : DOC-340048A1.txt
Wireless Telecommunications Bureau Site-By-Site Accepted for Filing
Released Date: 06/29/2016
Description:
Documents:
PDF : DOC-340047A1.pdf
Text : DOC-340047A1.txt
Wireless Telecommunications Bureau Site-By-Site Accepted for Filing
Released Date: 06/29/2016
Description:
Documents:
PDF : DOC-340045A1.pdf
Text : DOC-340045A1.txt
Wireless Telecommunications Bureau Market-Based Applications Accepted for Filing
Released Date: 06/29/2016
Description:
Documents:
PDF : DOC-340041A1.pdf
Text : DOC-340041A1.txt
Public Safety and Homeland Security Bureau Market-Based Applications Action
Released Date: 06/29/2016
Description:
Documents:
PDF : DOC-340044A1.pdf
Text : DOC-340044A1.txt
Wireless Telecommunications Bureau Market-Based Applications Action
Released Date: 06/29/2016
Description:
Documents:
PDF : DOC-340043A1.pdf
Text : DOC-340043A1.txt
Public Safety and Homeland Security Bureau Market-Based Applications Accepted for Filing
Released Date: 06/29/2016
Description:
Documents:
PDF : DOC-340042A1.pdf
Text : DOC-340042A1.txt