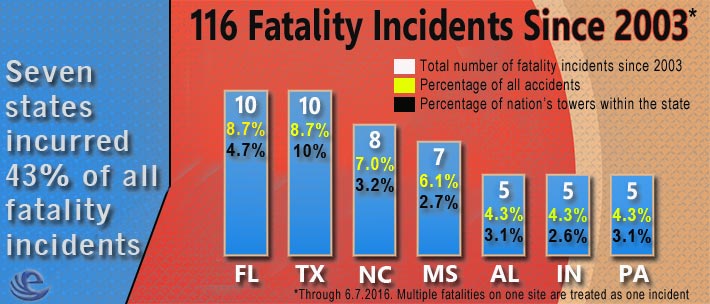 For 13 years, Wireless Estimator has been compiling data on industry-related fatalities, and presented that information last month to a dozen public and private safety professionals for analysis to see if there are any common threads that could be explored to reduce tower climber deaths.
Th

e only commonality, however, was that although there were 116 fatality incidents since 2003, assigning any significance based upon factors such as age, high incident states and other known information, didn't create any statistical certainty, but did create an excellent dialogue on industry safety, and led to more questions than it answered.
As an example, the greater portion of incidents occurred in Florida and Texas with 20 deaths, representing 17% of all fatalities.
However, since worked hours within a state are not available through any resource, the percentage of towers in each state would be an indicator of expected work to be performed and a parallel for exposure.
Therefore, since Texas has approximately 10% of the nation's structures, their fatality rate of 8.7% of all deaths is below the workload/tower count. However, if one were to cherry pick data to support their intended results, an argument could be made that Florida's 8.7% fatality count is troubling because the state, only has 4.7% of the nation's towers.
For comparison, Texas has 107 tower erection/maintenance companies and Florida, 99.
Or it could be proposed that Texas is one of the safest states for the wireless industry with 8.7%  of the nation's deaths since the Bureau of Labor Statistics (BLS) identifies that of all workplace accidents in the country, Texas led the nation in fatalities in 2014 with 15.3% of total deaths.
The average height that a tower climber fell from was 197'; the average deceased's age, 35.
California's record appears to be the best
Of interest is California's one incident count in a state that has 5% of the country's towers. A presumption could be made that the majority of California's structures are at a lower height than elsewhere in the country resulting in less fatalities, but deaths do occur at any height and California's 2003 fatality occurred when a tower technician fell 20 feet.
California leads the nation in companies performing elevated work with 117.
Both Florida and California have the toughest contractor license exams in the nation. CAL-OSHA is very aggressive. Florida is Federal OSHA.
Do state tower regulations have an impact?
Attempting to identify whether states, such as North Carolina and Michigan, that have enacted their own industry standards, have a lower fatality rate is difficult to assess. It could be interpreted that Michigan's program has since the state had three fatalities, but no additional ones occurred after the standard was introduced in 2009.
Conversely, North Carolina published their tower standards in 2005 and prior to their introduction they only had one fatality. Since then they've had seven. The most recent fatality occurred when a man was electrocuted on a jobsite, an area covered in the state's regulations, but not specifically addressed in the tower standard.
For additional details regarding industry fatalities, click here.