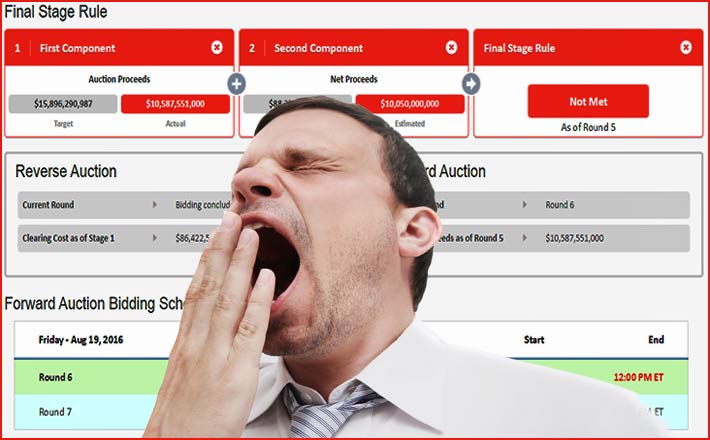 The FCC has informed two rural carrier organizations that it will not slow down or suspend the broadcast spectrum incentive auction in September due to a conflict in trade show scheduling.
The Rural Wireless Association (RWA) and NTCA: The Rural Broadband Association had petitioned the FCC's Wireless Telecommunications Bureau to provide breaks in the auction for RWA's Rural Wireless Summit  to be held Sept. 7-9 and the NTCA's  fall conference scheduled for Sept.26-28.
They said that their members were many of the 62 participants in the auction that would be attending their shows and it would be difficult to pay full attention to monitoring and providing bids.
The RWA's wireless summit this year will be held in conjunction with CTIA Super Mobility 2016 in Las Vegas.
Although the FCC said that it was sympathetic to the limited resources of smaller bidders, it said that their arguments were not compelling and  the bidding would proceed as scheduled.
"The FCC has devoted considerable time and resources since the enactment of the Spectrum Act four years ago to implementing the incentive auction in order to realize its important goals as rapidly as possible."
"As the Commission has emphasized, speed is critical to the successful implementation of the incentive auction. Unlike any past auctions, the incentive auction is a two-sided auction, with interdependent reverse and forward auctions that affect multiple sectors of the telecommunications industry, including television broadcasters, wireless telecommunications carriers, and other companies that have made significant investments, secured financing, and delayed other business proposals based on the current auction schedule," the Bureau said.
"Nevertheless, the Commission cannot control exactly how long the auction will take, due to the interdependent nature of the reverse and forward auctions and the auction's stage structure for determining the greatest amount of spectrum that can be cleared while satisfying the final stage rule."
"For all of these reasons, we will not exercise our delegated authority to delay, suspend, or cancel bidding in the incentive auction."
Auction results to date are less than stellar
The initial reverse portion of the auction has concluded and this morning's sixth round ended with auction proceeds of $11.06 billion.  The hot New York market is currently being bid at $181 million.
However, in recent bidding, analyst have noted that a larger number of smaller markets are receiving more bids than available supply.
The clearing costs for the total auction, which is the minimum amount that will be required for the auction to end, is upwards of $88.4 billion. Unless the total proceeds exceed that amount before all six phases are completed, the FCC will have to go back to the reverse auction and begin the process again.
When the first round kicked off on Tuesday, there was considerable media coverage, but interest has waned considerably and mostly likely will for some time until additional rounds have been completed.
The auction could last from several weeks to several months.